Proclamation
Lee County Interlocal Agreement
District 3 Lee County Commissioner Larry Kiker sent a letter requesting Council appoint a liaison, along with the Village Manager Steve Sarkozy, to facilitate discussions of the interlocal agreement negotiations with the County.  Council voted Councilmember Bill Ribble to serve as liaison.
Industry Appreciation Week
A proclamation was approved proclaiming the week of August 22 through 26, 2016, as Industry Appreciation Week in the Village of Estero, encouraging all residents to pay tribute to our businesses for their contributions to the economic well-being of Estero.
Consent Agenda
Resolution No. 2016-18 – Tidewater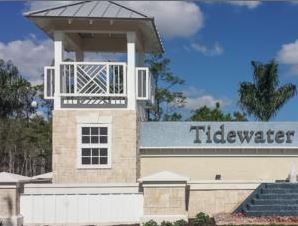 Council approved this resolution for the Tidewater Phase 2 Replat of 115 lots covering approximately 56.32 acres from their development.
Plats identify the location of properties for public records.
Tidewater is a Del Webb community featuring seven home designs and is located north of Everblades Parkway, south of Estero Parkway, east of I-75 and west of Ben Hill Griffin.
Public Hearing
Resolution No. 2016-19 – Capital Improvement Program
Council approved this resolution adopting the proposed initial Capital Improvement Program for 2016-17 allowing $2,025,600 for Transportation Projects, $840,700 for Park Projects, and $305,280 for Other Capital Projects, totaling $3,171,580.
Action Items
Resolution No. 2016-20 – Millage Rate
Council approved this resolution adopting the proposed millage rate for fiscal year 2016-2017 to be 0.8398 mills ($0.8398 per $1,000 of assessed property value).  This is the same rate as last year, however, that rate may be reduced at the budget hearings in early fall.
Village Manager Steve Sarkozy stated that the Village has a very significant reserve budgeted for any anticipated disaster, as well as a significant budget for capital p
rojects.
The first public hearing on the tentative ad valorem tax rate and budget is scheduled for 5:30 p.m., Wednesday, September 7, with the final public hearing to adopt the tax rate and budget on 5:30 p.m., Wednesday, September 21.
Competitive negotiation – staff committee
Council approved appointing a staff review committee consisting of Steve Sarkozy, Kyle Coleman, Mary Gibbs and Lisa Pace to evaluate proposals submitted by 14 consulting firms for miscellaneous engineering related professional services.  The committee will come back to Council with one or more recommended firms in September.
Zoning Hearing and Second Reading of Ordinance
Ordinance No. 2016-09 – Via Coconut Urban Place


Focus Group LLC is applying to rezone 19.3 acres to Estero Planned Development to allow for 297 dwelling units and a maximum of 30,000 square feet of commercial and/or retail space.
This property is located at the southwest corner of Corkscrew Road and Via Coconut Point.
Staff recommended a further continuance of this case in order for them to review the newly revised Pattern Book and deviations, and to prepare a report prior to review by the Planning & Zoning Board and then by Council.
Council voted to continue the case.
Ordinance No. 2016-08 – Genova


Jim Wallace, Managing Partner of Genova Partners, presented their request to rezone 16.95 acres of land at 9050 Corkscrew Road from agricultural and commercial to residential to allow for development of 205 residential units.
This is a Tier 2 designation, with 12 units per acre, in the newly designated Village Center area of the Estero Planning District.
Italianate architecture will be featured on all four sides of the buildings, i.e., there will be no "back of the building" views, with underground parking for residents and visitors.  There will be landscaped frontage along Corkscrew Road and Via Coconut Point, a linear park along Corkscrew Road, a public pocket park on Via Coconut Point and public lakeside sitting areas.
In addition, Genova will provide median landscaping on Via Coconut Point from Corkscrew Road to the proposed new entrance to the Estero Community Park, canopy trees and picnic areas in the park adjacent to Genova and a $100,000 contribution to a new entrance to the Estero Community Park south of their property,
Council approved this development with several conditions.
(Genova Presentation 1) (Genova Presentation 2)
Public Comment on non-agenda items
Six residents spoke in opposition to adding additional parking, a boat ramp or concession stand at the Estero Bay Preserve State Park.
Florida State Parks recently conducted two meetings at the Koreshan State Historic Site to gather input from residents regarding long-range improvements to the Estero Bay Preserve State Park, Koreshan State Historic Site and Mound Key Archaeological State Park.
The residents were reminded that the park system was taking public input through July 14, 2016, and their address is on the Village website.
Additional details are available in the minutes of this meeting.