A public information workshop was conducted to garner approval for changes to two existing properties.
Marsh Landing on US 41 is applying for a tree removal permit.  The president of Marsh Landing's Community Association described how the community would like to remove a total of 13 trees from their front entry.  This includes one dead pine tree and oak trees which are struggling due to being overshadowed by other oak trees in that location.  Their goal is to cultivate the remaining oak trees to produce a broad canopy in the entryway.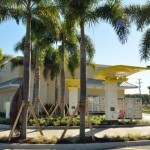 One resident spoke against allowing removal of the trees.  She stated that oak trees support more insects than any other tree in this area, which provide a food source for birds.
The McDonald's at Grand Oaks Shoppes Blvd. and Ben Hill Griffin Parkway is applying to convert their existing single drive-through to a dual sided drive-through to alleviate vehicle stacking problems and to bring it up to more modern standards.
In addition, they are proposing to update the pedestrian areas to comply with the Americans with Disabilities Act (ADA) code.