Workshop
Bonita Springs Utilities, Inc.
Bonita Springs Utilities, Inc.'s (BSU) President Jim Strecansky and Executive Director John Jenkins gave Council an annual update of the services they provide.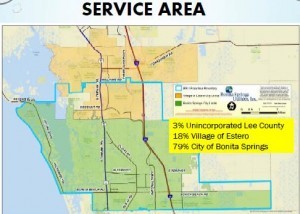 BSU is one of two water and wastewater utilities supplying the Village of Estero.  To see their franchise area map, click here:  http://www.bsu.us/about-bsu/bsu-franchise-area-map.html.
BSU has 19 wells into the Lower Tamiami Aquifer, 11 wells into the Upper Floridan Aquifer and added a Reverse Osmosis Facility in 2004.  The water is blended and distributed through over 450 miles of pipe.
They stated that BSU is the only utility in Florida which has an S&P rating of "AA" and that there has been no rate increase since 2010. BSU was recently honored for providing South Florida's best tasting drinking water for 2016.
Estero Fire Rescue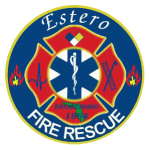 Estero Fire Chief Scott Vanderbrook gave an overview of the Village of Estero Emergency Management Plan.
He explained that Estero Fire Rescue, San Carlos Park Fire and Lee County Emergency Operations Center are coordinating a comprehensive emergency action response in order to protect the citizens of Estero.  They will be providing a full document in the future.
In addition, Estero Fire Rescue personnel help communities develop their own emergency plans, including complete checklists of critical items to perform before and after any emergency.  They also provide hurricane seminars for community residents.  For additional information, contact Susan Lindenmuth, Public Relations Manager, 239-390-8000.
 Proposed 2016-2017 Budget
Village Manager Steve Sarkozy presented his recommended FY 2017 Annual Budget. This proposal is a preliminary budget until the Village receives final revenue estimates from the State and County.
Sarkozy stated that the Village is in extraordinary shape financially for building a solid foundation for the future.  Nevertheless, the Village will be taking a conservative approach to expenditures in order to build a strong financial reserve in the event of any future disaster.
There will be public hearings on the finalized budget on September 7 and 14, 2016.
Public Hearing
Proposed Capital Improvement Program (CIP)
Village Manager Steve Sarkozy stated that the proposed CIP projects resulted from studies conducted by the Estero Community Improvement Foundation, FGCU and a number of public hearings and input from the community.
Consistent in the recommendations were to resurface Estero Parkway, add a bike path and walking path on Estero Parkway, selective beautification and isolated landscape projects, and adding monument "welcome" signage at key locations throughout the Village.  The requested 2016-17 budget is $1,502,160.
Sarkozy emphasized that all future CIP projects will meet Estero's high standards, both in the construction and maintenance of those projects.
Ordinances
Ordinance No. 2016-08 – Genova


This was a first reading of this ordinance to rezone 16.95 acres of land at 9050 Corkscrew Road from agricultural and commercial to residential to allow for development of 205 residential units.
Council approved the first reading; the second reading and public hearing is scheduled for Wednesday, July 13, 2016.
Ordinance No. 2016-09 – Via Coconut


This was a first reading of this ordinance to rezone 19.3 acres at the southwest corner of Corkscrew Road and Via Coconut Point to allow for a mixed use development to include 297 multifamily units with 30,000 square feet of commercial use.
Council approved the first reading of this ordinance.  The second reading is scheduled for Wednesday, July 13, 2016.
Action Items
Resolution No. 2016-16
This is a resolution appointing the voting delegate for the Village of Estero for the 2016 Florida League of Cities Annual Conference and Business Meeting.  Council voted to have Councilmember Ribble serve in this capacity as he already serves as the Council Liaison to this group.
Resolution No. 2016-17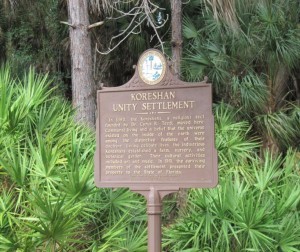 This resolution supports collaborative planning between the Village of Estero and the Koreshan State Park and Estero Bay Preserve State Park for the expansion of recreational opportunities.
Councilmember Kay Errington stated that the resolution should include rebranding the park to the "Estero River/Koreshan State Park".  Councilmember Bill Ribble stated that application for grants to help pay for some of these project should also be included in the resolution.  The amended resolution was passed.
Village Manager's Report
Village Manager Steve Sarkozy introduced the newly hired Assistant to the Village Manager Kyle Coleman.
Additional details are available in the minutes of this meeting.