JUNIOR RANGER Program: "See Turtle! Sea Turtle?"
July 15 at 10am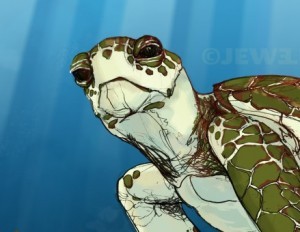 Come in for a fun learning experience: Become a JUNIOR RANGER! You will discover the differences between land and sea turtles! Meet in the picnic area at 10:00am. Ideal for children ages 6-12. Parental presence required.
GUIDED HISTORIC TOURS
*SATURDAY and SUNDAY at 10am ONLY*
Explore the 19th century religious Koreshan settlement, its structures, and gardens. Join guided walking tours and learn about these idealistic pioneers. The walking tour is about an hour and a half. Guided Tours are $2 for adults, $1 for children under 6 years of age and can be purchased at the Ranger Station (239) 992-0311.
KORESHAN SUNDAY FARMERS MARKET
EVERY SUNDAY 8:00-1:00 p.m.
Held in the historic settlement of Koreshans. Sunday Farmers Market offers local and organic produce, fresh seafood and dips, unique crafts, local honey, native plants, handcrafted jewelry, hot crepes and BBQ, beautiful art, and cool gifts. A market pass is $1. Contact the Ranger Station at (239) 992-0311 for more information.
Koreshan Baking
EVERY Sunday 11:00-1:00 p.m.
Meet at the Cast Iron Café for a pinch of history and a taste too! Koreshan bread and a delightful sweet treat is prepared in the historic cast iron stove.
NATIVE PLANT SALE
EVERY SUNDAY 8:00-1:00 p.m.
Learning about and purchasing native plants can be a daunting task, but it just got easier. The Coccoloba Chapter of the Florida Native Plant Society volunteers will be selling native plants at the Koreshan State Historic Site Farmers Market every Sunday.  Experts will be on hand to help answer your questions and teach you about the wonderful benefits of adding native plants to your landscaping. Volunteers will also explain about the fertilizer ordinance and invasive exotic plants. For more information, visitwww.FNPSCoccoloba.org or call (239) 273-8945.
YOGA in the PARK – Traditional Yoga
EVERY Sunday at 9:00 a.m. – 10:00 a.m.
Traditional Yoga class focuses on breathing, stretching and postures. Modifiable for all ages and levels of participants. Over time, this form of yoga will tone the body and focus the mind. Each practice will leave you relaxed, refreshed, and rejuvenated. Beginners welcome! Some mats provided. Bring a water bottle. $10. Park admission FREE.
CRYSTAL BOWL MEDITATION
EVERY Wednesday at 7p.m.
Join in for a 30-minute Crystal Bowl Meditation. The class offers the perfect opportunity to recharge your energy, rebalance your chakras, and to reconnect to your Higher Self. This is a pre-paid event. Pre-register at TheGypsySeaWitch.com (754) 444-9779 
BOOT CAMP
EVERY Mon, Wed, Fri at 5:30 a.m., 6:30 p.m., 7:30 p.m.
Meet at Koreshan for a great workout. Weights are provided. Bring water, yoga mat, and towel. $15. Park admission FREE.
GUIDED ESTERO RIVER and MOUND KEY KAYAKING TOURS
Join the College of Life Foundation on a guided tour through the historic beauty of the Estero River or paddle to Mound Key and hike the trail to the top of the ceremonial center of the Calusa Indians. Explore this unique ecosystem with dolphin, manatee, osprey, cormorants, great blue herons, and a Florida Master Naturalist in a comfortable, secure sea kayak.  Reservations required, please call (239) 992-2184.
KAYAK the ESTERO RIVER
Koreshan State Historic Site is now offering CANOES and KAYAKS for rent. Enjoy the serenity of our community's hidden treasure, the Estero River, while paddling the freshly cleared waterway. Canoes rentals are $7.00 for the first hour, and $5.00 each additional hour. Single Kayak rentals are $10.00 for the first hour, and $5.00 each additional hour. Tandem Kayak rentals are $15.00 for the first hour, and $10.00 each additional hour. Rent at the Ranger Station. No reservations. For more information call (239) 992-0311.