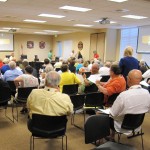 About 40 Estero residents turned out for the June 24 Design Review Board meeting where five of six development projects were reviewed and approved.
Tidewater f/k/as University Highlands located at the southwest corner of Estero Parkway and Ben Hill Griffin Parkway is adding street lighting within the development, adjusting the elevation of the homes' front porches and making some minor revisions to their Amenity Center and sanitary sewer.
Bella Terra on East Corkscrew Road will be adding crosswalks and safety improvements.
Spring Run at The Brooks on Coconut Road asked for a minor deviation for a setback for bocce courts.
Walmart was asking for approval of two monument signs, one on US 41 and one on Estero Parkway.  The Board asked that the developer consider using reduced lumens for the Estero Parkway sign as that is considered a residential street.
Estero 4.2/Eich Group located at 19950 Tamiami Trail northeast of Breckenridge, was looking for approval to clear the property, add landscaping and a privacy wall on the side of the property facing Breckenridge.  The Board approved, with the condition that the landscaping must be maintained while the property is vacant.  The developer is clearing the property for sale.
First Watch Restaurant at US 41, across from Coconut Point, was looking for approval for a revision to their building plans to obscure rooftop equipment.  The proposed revision was denied; the developer's representative was asked to come back with a more attractive alternative.
In addition, a public information workshop was conducted for the Highland Oaks Drive proposed roadway between Miromar Outlet Drive and Everblades Parkway South, Discovery Day Academy signage next to the Elks Club,  and CVS at Stoneybrook for upgraded parking lot and pedestrian access using ADA standards.
Additional information is available in the minutes of this meeting.