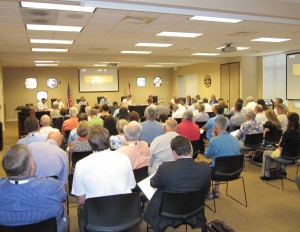 About 100 residents attended the Planning and Zoning Board meeting on June 30 to learn about four future developments in Estero.
The two largest developments discussed during the Public Information Meeting were Corkscrew Crossing, a 400-acre property on East Corkscrew Road, and North Point, a 100-acre property on the northeast side of US 41 and Williams Road.
Corkscrew Crossing, on the south side of Corkscrew Road east of Wildcat Run and west of Bella Terra, is currently approved for 700 dwelling units.  They are now proposing a community of 625 residential units, 130 single family units with the remaining being four-story multifamily units.  They have committed to preserving 218 acres of their land.
North Point is proposing an amendment to change the number of their residential units from 150 to 600 dwelling units and to reduce the allowable 550,000-square-feet retail space to 300,000-square feet.
The North Point property is included in the proposed "Village Center" area proposed in the recent studies conducted by Seth Harry & Associates and Bill Spikowski.  There is a "zoning in progress" resolution for developments in this area while the planning consultants compose zoning regulations.
The other two property amendment changes proposed were for a Publix Liquor store at the Corkscrew Village shopping center at US 41 and Corkscrew Road, and allowing a place of worship, Legacy Church, to move into the Galleria commercial office park on Corkscrew Road.
Public Information Meetings are held to inform both Estero residents and the board members of developers' proposals and allow time for both to ask questions of all developers. No decisions are made at these meetings.
In addition, Timberland and Tiburon's proposal to allow minor shifts to lakes and to eliminate an internal roadway was approved.
Also Plats for Tidewater off of Estero Parkway, Oaks of Estero west of River Ranch Road and Autumn Leaves south of Marsh Landing were approved.
Additional details are available in the minutes of this meeting.