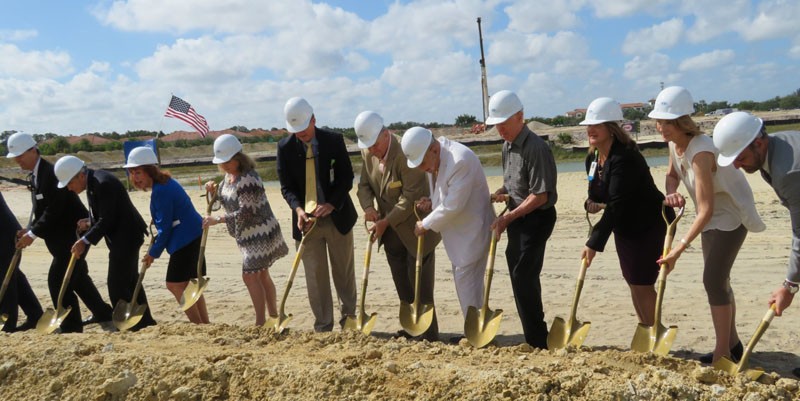 Officials from Lee Health, the Village Council, Bonita Springs City Council, Estero Chamber of Commerce, civic leaders and residents came out for the official groundbreaking ceremony for Lee Health's state of the art medical campus on Thursday morning, May 18, 2017.
Lee Health's System Director for Special Projects Suzanne Bradach welcomed the crowd of approximately 200 people.  Lee Health President Jim Nathan, Village Mayor Jim Boesch and Estero Council of Community Leaders' Interim Chairman Don Eslick were among the featured speakers on the program.
Initially, the $140 million, 163,500 square foot medical campus will feature a freestanding emergency department open 24 hours a day, seven days a week, 365 days a year.  There will also be a surgery center and short stay observation beds, a medical office complex and Healthy Life Center.
Lee Health will be building the facility to hospital standards so that sometime in the future it could become a hospital.
The front entrance of the facility will be on Via Coconut Point and back entrance off of Pelican Colony Blvd., which will be used by ambulances and service vehicles.
Plans call for the facility to open in the fall of 2018.
This slideshow requires JavaScript.