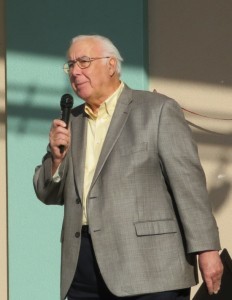 An estimated crowd of 350 young and not-so-young friends, co-workers and loved ones joined together in the Walk MS at the Estero Community Park on Saturday morning, March 11, 2017.
Most people walked but a few used their wheelchairs and scooters in order to participate.  The goal was to walk 3.1 miles around the park to raise money for this important cause.
Mayor Nick Batos initiated this year's Walk MS by reading a proclamation recognizing the March 11 event as an opportunity to raise awareness about Multiple Sclerosis and work toward a cure.
The National Multiple Sclerosis Society conducts these walks to raise funds to provide vital programs and services for those who are living with multiple sclerosis.  Last year, the Southwest Florida Walk MS raised $54,000 which is being used to fund critical research to restore lost function for those living with MS and to end the disease.
MS affects the central nervous system by interrupting the communication flow between the brain and body, affecting more than 400,000 in the U.S.   To learn more about MS and what you can do to help, go to the National Multiple Sclerosis Society at http://www.nationalmssociety.org/.
This slideshow requires JavaScript.