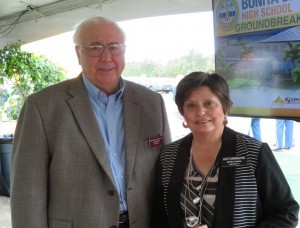 On Tuesday, March 14, 2017, the Lee County School District held a groundbreaking ceremony for the future Bonita Springs High School.
The Estero High School Jazz Band played in the background as guests arrived. There was a Presentation of Colors by the Kathleen Senior High School Air Force JROTC from Lakeland and Cadet Col. Sofia Pultro, N. Fort Myers High School, sang the National Anthem.
Speakers at the event included the School District of Lee County's Mary Fischer, Cathleen Morgan and Dr. Greg Adkins, and the new Principal of Bonita High School Jeff Estes.
Also in attendance for this ceremony were Lee County School Board members Cathleen Morgan, Chris Patriccia, Jane Kuckel, Steven Teuber; Bonita Springs Mayor Peter Simmons, Vice-Mayor Peter O"Flinn and Councilmember  Steven Slachta, and Village of Estero Mayor Nick Batos and Councilmember Katy Errington.
Located on 76 acres off of Imperial Parkway and Shangri La Road, the new school is scheduled to house 1600 students from Bonita and Estero. The school is scheduled to open in August 2018, its mascot will be Bull Sharks, and their colors will be green and blue.
The school will have academic programs on aerospace technology and sustainable agriculture, among other studies.
This slideshow requires JavaScript.