Planning for the Lee Health Village at Coconut Point is underway with the people who will actually use the workspace helping to design it to meet customer requirements.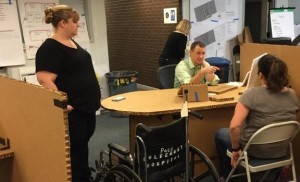 Lee Memorial Health System (LMHS) employees recently mocked up space designs for the future health complex using a Lean design principle called 3P. Borrowing from a concept developed for the manufacturing world to design products and processes, health care professionals are now using this method for designing the new facility. 3P stands for production, preparation and process.
Over the past few months LMHS employees – from technicians to physicians –participated in a multi-day "3P event". The team created and tested potential designs using life size cardboard cutouts to make sure they were creating a positive patient experience and providing for a flow that minimizes wait time.
Lee Health Village will be a health and wellness destination for residents of Southwest Florida, offering a broad array of medical services across the continuum of care in a campus environment/retail setting that combine to create an excellent experience and healing environment.