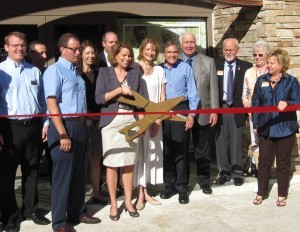 On Saturday, December 12, 2015, the Lee Memorial Health System (LMHS) opened its new Healthy Life Center at Coconut Point.
Among those present for the ribbon cutting were LMHS President Jim Nathan and Project Director for the LMHS Healthcare Village at Coconut Point Suzanne Bradach; Estero Chamber of Commerce Chairman of the Board Gene Montenierri and Treasurer Judy Gietzen; Estero Fire Commissioners Dick Schweers and Jack Lienesch; and Village of Estero Mayor Nick Batos.
The Healthy Life Center has a number of events planned, including health and wellness seminars, nutrition tips and cooking demonstrations.  Call 239-343-9207 for further details.