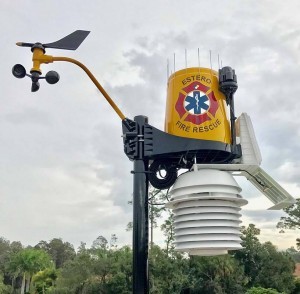 Severe weather can be a real concern in Florida. From hurricanes, heavy thunderstorms, lightning and the occasional tornado, weather plays a huge part of our daily lives.
Now, you can get up-to-date weather information directly from the Estero area at any time with the new Estero Fire Rescue WeatherSTEM at your fingertips.
WeatherSTEM is a weather alert platform that is customizable for multiple conditions, current and forecasted events. This is critical in a state that is designated as the lightning capital of the US. In 2012 alone, over 900,000 lightning strikes were noted throughout the state and each year an average of 15 people are struck and/or killed by lightning.
You can personalize the information you receive and the way you receive it, either through social media, text message or email.
To learn more about the new WeatherSTEM and customize your weather, visit https://lee.weatherstem.com/efr.
Weather STEM is also available in an app on iPhone or Android platforms.
Join them on social media at: