Estero Fire Rescue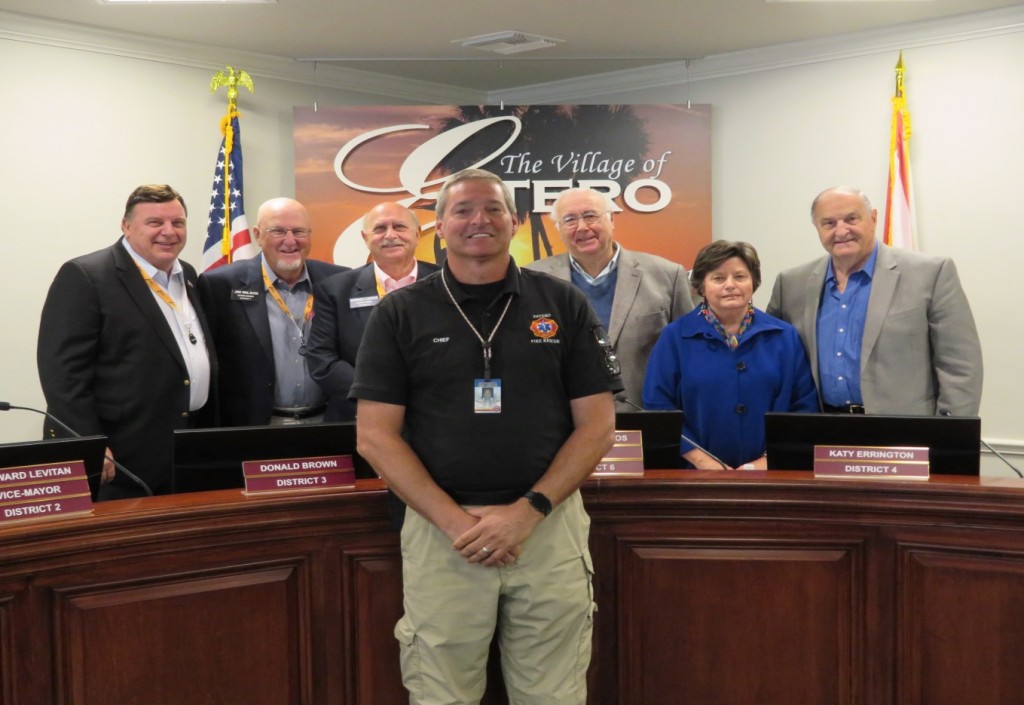 The Village Council thanked Estero Fire Rescue Chief Scott Vanderbrook and his entire team for their courageous work in helping suppress the fires in both Lehigh Acres and in Collier County last week.
Estero Fire Rescue joined forces with other local firefighters to help extinguish two brush fires covering nearly 500 acres in east Lee County.  They then went to work with federal, state and local firefighters to contain the 7,250-acre brush fire in the Picayune Strand State Forest.
Action Items
Council agreed to continue to investigate the possibility of shared use paths in Estero as part of the SUN Trail Program.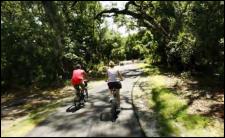 The Shared Use Non-motorized (SUN) Trail Program is a state-wide network of corridors separated from cars to safely serve bicyclists and pedestrians.  Locally, there is a proposal to run a path along a 9.3 mile railroad right-of-way that goes through both Estero and Bonita Springs.  Other paths will also be considered.
A liaison will be appointed for this project at a future date.
Workshop
Estero River Maintenance
Roland Ottolini, Director, Lee County Natural Resources Division, gave a presentation on work the County performed on the Estero River during 2016, starting from US 41 east to Bamboo Island.  The focus was on removing exotic vegetation, debris and major obstructions which were blocking the flow of the river and which could cause flooding upstream.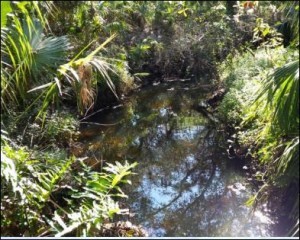 In 2017, they plan to continue this work from around Bamboo Island east to the North and South Branches of the Estero River.
Their goal is to keep natural vegetation in place on the banks to avoid erosion, provide primary conveyance of stormwater and flood protection.  (Presentation)
Estero Parkway
Danny Nelson, Tetra Tech, gave an introduction to his firm and team RWA Engineering, which would assist with bike and pedestrian paths, and BH&A, which would assist with landscape and beautification along the parkway.  He proposed a conceptual design first to address the roadway, sidewalk and bike lane improvements as well as landscape, lighting and signage standards.  (Presentation)
Public Comment: 10 residents spoke about the need for safe bike paths, road resurfacing and lighting along the parkway
Fee Reductions as incentive in Village Center
Council discussed incentivizing developments in the Village Center area. One idea was to provide for a fee reduction or waiver for the underbuilding of parking garages as this was seen as a public benefit.  Community Development Director Mary Gibbs was asked to provide Council with some options for a fee reduction for this purpose at a future meeting.  (Presentation)
Developments in the DRGR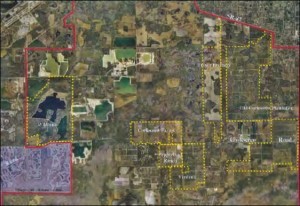 Community Development Director Mary Gibbs gave a brief history and overview of the Density Reduction/Groundwater Resource (DR/GR) area.
This area is primarily located in Southeastern Lee County east of I-75 and both north and south of the eastern section of Corkscrew Road, with a small section in southeastern Ft. Myers and another small section in Bonita Springs. The DR/GR includes upland areas that provide substantial recharge to the aquifers.
There are two mine applications and five developments being proposed on East Corkscrew Road.  While these are not within Estero's boundaries, the cumulative effects of these proposals have the potential of creating a number of issues for the Village including increased traffic, the need for additional schools, loss of groundwater storage, flooding and loss of wildlife habitat.  (Presentation)
Public Comment: Six people spoke of their concerns about how these proposals would affect the quality of life in Estero.
Additional details are available in the minutes of this meeting.  Residents may also view the archived meeting by going to the Village website http://estero-fl.gov/council/watch-meetings-online/.
The next meeting will be at 9:30 a.m., Wednesday, April 5, 2017.