Budget and Capital Improvement Plan Process
Village Manager Steve Sarkozy introduced the FY 2016-2017 budget, stating that the budget is the most important subject Council will be discussing this year.  He emphasized the Village should follow conservative fiscal practices in order to have a significant amount in the reserves, setting aside monies for emergencies or putting the Village in good stead for bonding for the future. By identifying projects based on a 7 year term vs 5 years, the projects could be paid on a cash basis instead of borrowing funds.
Finance Director Lisa Griggs Pace gave an overview of the budget projections and Capital Improvement Plan process which includes public workshops so that residents may suggest what they would like to see developed into capital projects. The budget process must be completed by October 1.
FGCU Estero Infrastructure Inventory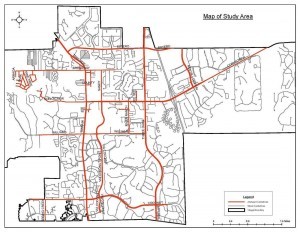 Council discussed the Infrastructure Inventory study conducted by Florida Gulf Coast University which found that 68 percent of the roads in Estero are in good condition, 20 percent should be revaluated in the next 2 – 3 years, and 12 percent need immediate attention.
Council agreed that repaving the road and adding sidewalks along Estero Parkway, as well as temporary fixes on Corkscrew Road, would rank highest in priority of improvements to be addressed.  The issue of who owns all the roads, the County or the Village, still has to be resolved.  Mayor Nick Batos and Village Manager Steve Sarkozy have been meeting with the County and will collaborate with them to determine how these improvements can be made.
Village Center Planning Process
Community Development Director Mary Gibbs addressed the key points of the Village Center planning process, keeping in mind the property owner's rights and the Council's vision of a walkable, interconnected mixed-use area.
The new land use category for this area is "Central Estero."  Some of the options being considered are higher density and increased height if certain criteria and requirements are met by the developers.
A public workshop will be held at 5:30 p.m., Tuesday, March 8, where Joe Minicozzi, principal of Urban3 will give a presentation.  Residents are invited to attend this  workshop which will be held at the Living Waters Church, 22100 Tamiami Trail, just south of Williams Road and opposite of the Hertz headquarters.
A joint workshop of the Design Review Board and the Planning & Zoning Board will be held at the Village Hall, Estero Fire Rescue headquarters, 21500 Three Oaks Parkway, at 5:30 p.m., Wednesday, March 9.
Council Rules of Procedure
Village Manager Steve Sarkozy presented a 12-page "Rules of Procedure" document which is designed to ensure the Village's business is transacted efficiently and effectively and to promote order and cooperation in the deliberation of public policy.
The document requires Council to conduct meetings at 10 a.m., the first and third Wednesday of each month, with workshops to be held at 10 a.m. on the second and fourth Wednesday of each month.
Members of Council will share their comments on this document with the Village Manager, who will bring an updated version back at a future meeting.
Council Communications
Councilmember Bill Ribble stated that furniture will be moved into the new Village Hall at 9402 Corkscrew Palms Circle on March 9 – 11, the computers and telephones will be changed over on March 11 – 13, the Community Development Department will move on March 12 and they will be open for business on March 14.  The Council will continue to meet at the Estero Fire Rescue headquarters until the audio-visual equipment is installed at the new hall, which should be sometime soon.
Councilmember Howard Levitan reminded everyone of the vacancy on the Planning & Zoning Board and that two members of that board are at the end of their terms.
Councilmember Katy Errington stated that Wanda Wooten, Lee County Department of Natural Resources, will start soon clearing the Estero River of non-native species, downed limbs and trees, starting at US41 up to the Seminole Gulf Railway bridge.
Mayor Nick Batos reported that the six Lee County mayors met with US Senator Bill Nelson and US Representative Curt Clawson over the weekend regarding the discharges from Lake Okeechobee.  Batos stated that both legislators thanked the mayors for bringing this issue to the public's attention and asked for continued assistance to generate support in Congress to get this issue resolved.  Batos will ask Phil Flood, South Florida Water Management District, to give an update at a future workshop.
Additional information is included in the minutes of this meeting.