Public Hearings
Estero Medical Center LLC
The Board agreed that the maximum side setback of 5 feet for the Estero Medical Center in the Plaza del Sol at the northeast corner of Three Oaks Parkway and Corkscrew Road is unreasonable and obviously a scrivener's error.  They agreed to recommend to Council that the reference to the 5 foot setback be removed from the Zoning Resolution Number Z-09-037 Site Development Regulations.
Village Center Comprehensive Plan Amendments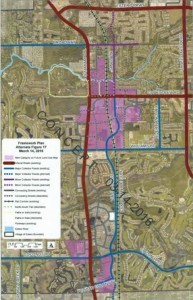 Community Development Director Mary Gibbs reviewed some of the revisions which have been made to the Comprehensive Plan Amendments as a result of comments made at the March 9 joint meeting of the Planning & Zoning Board and Design Review Board, as well as letters received from landowners and others.
The land use category of Central Estero was changed back to Village Center, the mixed use overlay was taken out of the Village Center, vested rights language has been revised and density ranges have been increased somewhat for each tier.
The Board heard from nine developer or landowner representatives, most who stated they were pleased with the revisions to date but felt that Tier 1 should include more density units.  Three members of the community spoke, stating they hope the Village will stay committed to providing walkability and gathering places in the Village Center.
The Board voted 3 to 2, with 1 member recusing himself, to recommend Council transmit the amendments to the state subject to modifications to be made by the Community Development Director.