Continuation of Deliberations: Estero WAS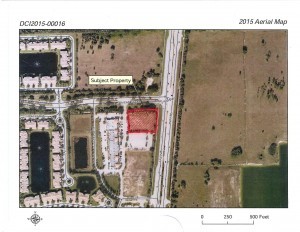 Estero WAS Partners, LP, requested to rezone their 1.36 acres from Mixed-Use Planned Development (MPD) to Commercial Planned Development for the development of up to 15,000 square feet of commercial uses, including a fast-food restaurant.
This property is located at 21700 S. Tamiami Trail on the west side of US 41, south of Pelican Sound Drive.
The Community Development staff recommended amending the MPD to allow the development of up to a maximum of 15,000 square feet of commercial uses.  Both the back and front of the building are required to be treated as primary facades.
If a fast food restaurant is constructed on this parcel, enhanced landscaping will be required.  A drive-thru restaurant is not allowed.  Outdoor alcohol consumption and live or amplified music would be restricted to between 11 a.m. and midnight.
The property owner will be required to pay its proportionate share of a traffic light at Pelican Sound Drive and US 41 should one become necessary.
Council approved the application with staff's conditions.
Planning & Zoning Board Interviews
The Village Council is accepting applications for the Planning & Zoning Board, which has two vacancies.  Six candidates were interviewed at this meeting.  Additional interviews will be continued on March 30, at which time Council will select the new members for the board.
Village Center Comprehensive Plan Amendments and Framework
Community Development Director Mary Gibbs reviewed the March 22 Planning & Zoning Board meeting regarding the Village Center Comprehensive Plan Amendments and Framework.  She stated that the PZB endorsed the concept, giving her the flexibility to make some changes.
She explained that the Council transmittal hearing will be on Wednesday, March 30, and then the documents will be sent to state agencies and adjacent cities for review. Changes may still be made following this review, before the adoption hearing.
Request for Qualifications & Request for Proposals
RFQ 2016-01 Village Comprehensive Plan
The Village has received six responses to date from firms qualified to assist the Community Development Department with completing the Village Comprehensive Plan.  Proposals are being accepted through April 13.  The Village Manager, Community Development Director and Finance Director will conduct the interviews and make recommendations to Council.
RFP 2016-01 Village Traffic Study
Village Manager Steve Sarkozy noted that the accelerated Coconut Road in-season traffic study should be completed in the next two weeks.  He noted there have been five proposals for a Village-wide traffic study.  The Village Manager, Community Development Director and Finance Director will conduct the interviews and make recommendations to Council.
RFP 2016-02 Council Chambers Audio, Video & Sound System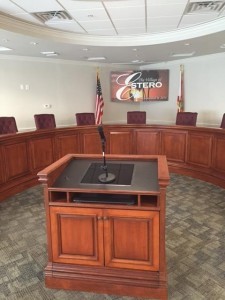 Four proposals were received to provide audio, video and sound system services. Council voted for ProAudioSVCS following the presentation and recommendation by Project Manager Antonio Correia.
The equipment, including four TV cameras, should be in place in eight to ten weeks. Correia recommended the Village assign one person to run the cameras.
Council asked about providing a temporary projection service for presenters while waiting for the complete audio visual system to be put in place; Correia and ProAudioSVCS will work to put a temporary system in place sometime in the next two weeks.
Letter to Lee County Requesting Support for Capital Projects
Council agreed they  should request a traffic light at the Bella Terra and Wild Blue intersection, and sidewalks and resurfacing on Estero Parkway.
Change in Council Meeting Time
Council meeting times will be changed to 9:30 a.m. starting the first week in April.  Council Zoning Hearings will be held on the third Wednesday of each month.
Public Input
Don Eslick, Interim Chairman of the Estero Council of Community Leaders, spoke about the use of roundabouts.  He stated the Metropolitan Planning Organization is conducting a study of 18 different intersections to evaluate how effective roundabouts would be.  The Florida Department of Transportation has adopted a rule that roundabouts should be looked at before putting in traffic lights as roundabouts reduce serious accidents by 80 percent.  He recommended the Village think about using roundabouts in future planning.
Additional information is included in the minutes of this meeting.