Public Information Meetings
The Reef Student Living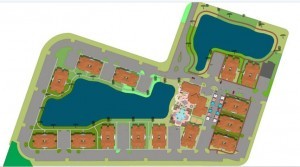 Joe McHarris brought an application before the board to review the design of the proposed monument sign, revisions to the roof and color changes to the student apartments at The Reef.
The roof revisions are due to a new, efficient, closed system that doesn't require vents.  The color for the buildings was changed from shades of taupe to a range of classic white, ecru, and brown.
The Reef Student Living apartments are currently under construction at the northeast corner of Three Oaks and Estero Parkways.
American House Adult Living Facility
A representative for the American House Adult Living Facility located at 8460 Murano Del Lago, east of Tamiami Trail and south of Pelican Colony Boulevard, described a proposal to construct two open air carports in the parking area at the entrance to this facility.  The carports would provide coverage for 20 cars, would match the colors of the building and would be screened by plantings.
The adult living facility is currently under construction and the proposed carport area is scheduled to be paved.
McDonalds at Corkscrew Road and Ben Hill Griffin Parkway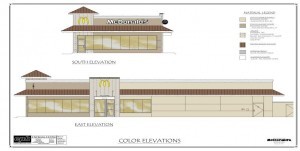 The owner of the McDonalds Restaurant at Corkscrew Road and Ben Hill Griffin Parkway plans to renovate the interior and exterior of this restaurant.  He stated he wants this restaurant to be a "flagship" or one of the best in the country.
His representatives brought a proposed design which they described as incorporating the designs of the shopping center, would not include the standard yellow arches but would be beige overall with accent colors of dark oak wood platting.
The designer was reminded that the Estero design requirements state that any building less than 5,000 square feet needs to have a pitched roof.  This building is approximately 4,000 square feet.
Public Hearings
Meadows of Estero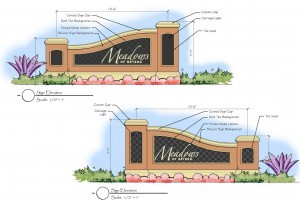 The Meadows of Estero is a gated community located on both the north and south side of Pelican Sound Drive, on the west side of US41.
The community currently has three entrance signs which are each different from the other.  They plan to remove those and replace them with uniform monument signs for a cohesive look.  They also plan to use small columns and ornamental gates to enhance the entrances.
The Board approved this application.
Board Communications
The Village of Estero Land Use Attorney Nancy Stroud stated that members of the Design Review Board and the Planning & Zoning Board should establish the practice of leaving the dais when having to recuse themselves from participating in discussions about projects which would be of financial benefit to them.