Estero Crossing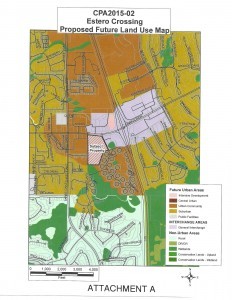 Estero Crossing requested an amendment to the Comprehensive Plan and a rezoning for their 43 acres of property on the south side of Corkscrew Road, located 1,000 feet west of the I-75 interchange.
Approval of these changes would allow the applicant to develop up to 455 residential units and 60,000 square feet of commercial use. The application also included potential development for an assisted living facility, convenience store, gas station and hotel with 100 units.  The applicant's proposal showed the majority of the project being residential, either multi-family apartments or single-family units, with commercial uses on the northern portion of the property. They requested the amendment as current zoning does not allow residential use.
Village staff recommended the Comprehensive Plan amendment should not be transmitted to state agencies for further review as presented.  This was based on a number of issues, including the proposed uses, intensity and residential density of the property would not be consistent with Estero's Comprehensive Plan.
About 200 residents from Corkscrew Woodlands, the Island Club and Villa Palmeras attended the meeting.
The Board voted 5 – 0 to continue the request, allowing the applicant to return with a revised plan.
Meadows of Estero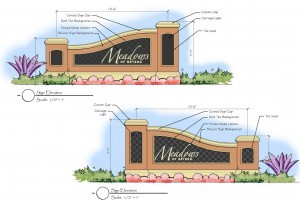 The Meadows of Estero is a gated condominium community located on the north and south side of Pelican Sound Drive, on the west side of US 41.
They requested a deviation from the 15-foot setback requirements for two monument signs at two of the three entrances to the development.
The existing signage locations do not allow for good visibility or community identification to vehicular traffic.
The Board approved this application.
Additional details are available in the minutes of this meeting.