Ordinance No. 2016-02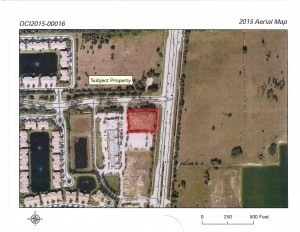 This was a second reading and public hearing for this ordinance.  Estero WAS Partners LP, is requesting to rezone 1.36 acres from Mixed-Use Planned Development to Commercial Planned Development for the development of up to 15,000 square feet of commercial uses, including a fast-food restaurant.
This property is located at 21700 S. Tamiami Trail on the west side of US 41, south of Pelican Sound Drive, and is 640 feet from the Pelican Sound residential community.
At the December 15, 2015, Planning & Zoning Board meeting, the board agreed to staff conditions which included that a fast food restaurant be limited to "in line" only, no drive-thru.
Neale Montgomery, Attorney with the Pavese Law Firm representing the property owners, stated they have met with Pelican Sound residents; the residents of the Meadows of Estero did not express interest in meeting with them.   The property owner has agreed to help pay for a traffic light at the US 41/Pelican Sound Drive entrance when one is required; it is not required at this time.
The ordinance will be revised; it was continued to Wednesday, March 23.
Public Input
Greg Toth spoke against allowing a second fast food restaurant in this development as it would set a precedent.  The restaurant should be a consumption on premises Group 3 restaurant.
Other Business
Term limits of several members of both the Planning & Zoning Board (PZB) and the Design Review Board (DRB) are close to expiring.   Existing board members and residents interested in applying for a position on one of these boards should contact Village Clerk Kathy Hall.  Applications for the PZB are due by March 18; applications for the DRB are due March 25.  You may contact her at 239-221-5035 or email hall@estero-fl.gov.
Additional information is included in the minutes of this meeting.