Ordinance No. 2016-04 Village Center Comprehensive Plan Amendments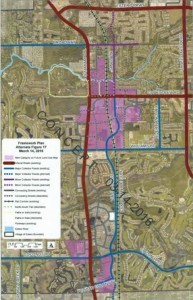 Community Development Director Mary Gibbs described the proposed changes to the land use map, which is the 522 acres in the Village Center area which is located near US 41 from the Bonita Springs city limits north to just south of Broadway.  This change is being made to support compact walkable areas within Estero.
In this category, higher densities may be allowed if certain criteria are met.  Gibbs described the sliding scale of higher density allowances, from a base of 6 to up to 27 units per acre, depending on the public features offered by developers.
Some of these and other changes were made as a result of comments following the joint Planning & Zoning Board and Design Review Board meetings and letters received from some of the land owners and developers.
A number of landowners and/or their representatives spoke about the need for additional changes, but most agreed that the document should be forwarded onto the Department of Economic Opportunity for review.  Once the agency reviews and makes comments on the amendments, which will take about 30 days, the Village staff may still make minor changes before the amendments are adopted.
Council voted 6 to 1 in favor of transmitting the amendments to the state.
(See Comprehensive Plan Amendments)
Planning & Zoning Board and Design Review Board interviews
Council interviewed ten applicants for the Planning & Zoning Board and Design Review Board.  Two additional interviews are scheduled for the April 6 Council meeting, at which time Council will vote on the candidates to fill the vacancies on both boards.
Additional details are available in the minutes of this meeting.