Director of Community Development Mary Gibbs opened the workshop by talking about the required amendment to the Comprehensive Plan regarding the proposed Village Center.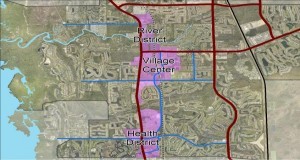 She stated the Village wants to reach a balance between what the community wants to see with the property owners' desires for the new land use category called "Central Estero".
Gibbs mentioned that, at the Village Center workshop, land-use consultant Joseph Minicozzi had pointed out that there is more taxable value with higher density.  She stated that higher density and increased height are some of the options being considered if certain criteria and requirements are met by the developers.
Public Input
Fifteen members of the public, mostly land owners, developers and/or their representatives, spoke about the importance of collaboration and flexibility in creating this new area in the Village.
The Planning & Zoning Board meeting scheduled for March 15 was postponed to March 22.
Additional information is available in the minutes of the workshop.