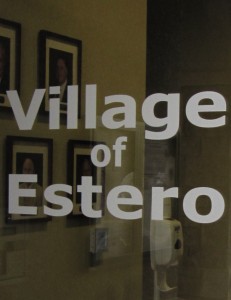 There was a first reading of Ordinance 15-04 to change the qualifications for membership of the Design Review Board (DRB), reducing the number of state licensed architects from 2 to 1. The Planning and Zoning Board will also be asked to review this change before it is voted upon by Council.  There is a state licensed architect from Fort Myers who has expressed an interest in joining the DRB.  The qualifications stated in the ordinance establishing the DRB require that at least 4 DRB members be Estero residents, which has already been met by the current membership of the board.
While approval of a Village Budget for fiscal year 2015 is not required, Village Manager Lombardi presented a budget to Council and recommended Council approve it so there would be official revenue and expenditure numbers for an audit at the close of the fiscal year, September 30, 2015.  The budget format follows the format of the Feasibility Study with the revenue and expenditure numbers revised to current estimates.
Vice-Mayor Levitan, Village Attorney Saunders and Interim Village Manager to meet with Assistant County Manager Pete Winton, Acting Director of the Department of Community Development David Loveland, and District 3 County Commissioner Larry Kiker next week.  They will discuss the Local Option Gasoline Tax Interlocal Agreement, the continuation of County Services through 9/30/15, and the cost of county services interlocal agreement.
The Workshop started with a brief overview of the National Flood Insurance Program by Jeff Overmyer, Florida Division of Emergency Management.  This insurance program is based on a community ratings system; Lee County currently has a rating of 5.  As a new enrollee in the program, Estero would have a rating of 10.  Overmyer stated Estero would ultimately gain credit for its open spaces, resulting in a reduction in flood insurance fees.  Open spaces cited include golf courses, Koreshan State Park and Estero Community Park.
There was a discussion regarding the formation of citizen advisory committees.  Council agreed to place the topic on a future workshop.
Additional details are included in the minutes of this meeting.