Public Hearings
Via Coconut Urban Place
This case was resumed and continued to a date certain of June 21, 2016.
Coconut Point Honda
The applicant requested a setback deviation for their monument sign on their property at 22240 S. Tamiami Trail.  The requested setback was for five feet instead of the 15 feet specified in the land development code.
The applicant noted that both RaceTrac and Coconut Ford have monument signs set at five feet. These sign setbacks were approved by the county before Estero was incorporated.
Village staff recommended a setback of 10 feet.  The Board voted unanimously to approve a 10 foot setback.
Public Information Meeting
The Springs at Gulf Coast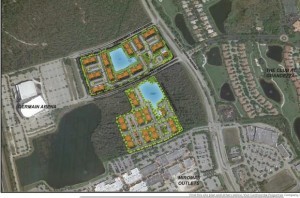 A representative of The Springs at Gulf Coast presented their application for a parking deviation.
The Springs is a proposed development of 203 units in eight, two-story apartment buildings at the northwest corner of Highland Oaks Drive and Miromar Outlet Drive.
The Springs plans to offer a clubhouse with 24-hour fitness center, pool and fenced pet play yard.
The applicant is proposing to reduce the number of parking spaces from the required 2 spaces per unit to 1.75 spaces per unit, which would be a total reduction of 91 parking spaces.  They pointed out this would allow for an increase in open space on their property.
J.J. Basso, representing the Grandezza community, spoke during public comment.  Grandezza is across Ben Hill Griffin from The Springs at Gulf Coast.  Basso stated this new development will increase traffic and present safety issues for both communities.  He stated that both of the communities and Germain Arena should contribute to a traffic light at Everblades Parkway.  The developer's representative announced they have placed monies in escrow for a traffic light.
Workshop
Community Development Director Mary Gibbs reviewed the 25-page draft Village Center Land Development Code Amendments.
Eighteen people spoke during public comment.  The residents who spoke all supported the Village Center concept.  Representatives of property owners and developers suggested some changes to the verbiage of the amendments.
Additional details are available in the minutes of this meeting.