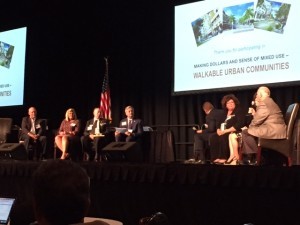 Village of Estero Mayor Nick Batos (far right) was among the 400 government officials and developers who gathered to listen to national smart-growth experts and discuss methods of making the region more pedestrian-friendly.
They were told that when a downtown is redesigned for walkability, as Naples was in 1993, it attracts people who are trying to escape sprawl.  These areas are denser and bring more tax revenues to the city per acre, provide a healthier environment and boost tourism.
All six Lee County mayors, as well as the mayors of Naples and Punta Gorda, participated and spoke about what their individual cities are doing to encourage walkable communities.
Batos pointed out that the village is looking into the possibility of mixed use for the remaining undeveloped areas of Estero.