Mayor Nick Batos welcomed the staff of the Achieva Credit Union to Estero. The branch office opened its doors for business on Saturday, November 7, 2015.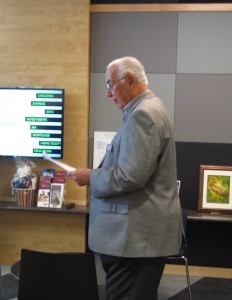 Also participating in the welcoming ceremony were Estero Baptist Church Pastor Frank Brand; Estero Chamber of Commerce Chairman of the Board Gene Montenieri; Estero Fire Rescue Commissioners Jack Lienesch, James Mendolera and Dick Schweers; Estero Lifestyle Magazine Publisher Gary Israel; and Bonita Springs Estero Economic Development Council Executive Director Christine Ross.
Achieva started in business in Pinellas County in 1937 with only 7 members.  The Estero branch is the group's third office in Lee County and 20th throughout Florida.  It's located near Publix at the Corkscrew Village Shopping Center.
Achieva Branch Manager Anthony Autera, also an Estero resident, stated their slogan "Banking for Good" has already started in Estero.  They are partnering with Publix to deliver a full Thanksgiving dinner to several needy Estero residents in the coming weeks.