Public Hearings
MedExpress Estero

Representatives for MedExpress Estero were applying for approval of a Development Order on their property at the northeast corner of US 41 and Estero Parkway, adjacent to Walmart.
They presented a number of changes made as a result of their presentation to the Board on April 26.  The changes included removing stone along the bottom of the building, adding tile on the window canopies, relocating the sidewalk and crosswalk and adding bronze benches, among other items.  (Presentation)
The Board approved this project with the condition that the bracket detail is incorporated and the monument sign is wider than the height of the signage.
Calvary Church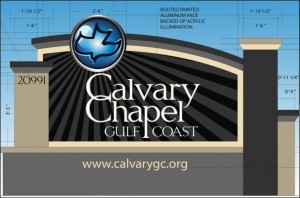 A representative from Calvary Church presented their proposed change to their monument sign.  The current signage is not illuminated.  The new sign would have LED lighting
The Board approved the sign with the recommendation of changing the color black to a dark grey and putting the address numbers on the end/side of the signage.
The Church is located on Three Oaks Parkway adjacent to and north of Estero Village Classic Carwash.
Germain Arena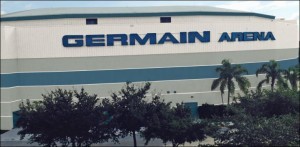 Representatives for Germain Arena presented a new color scheme to repaint their building located at 11000 Everblades Parkway
The colors presented were Santorini Blue, Aesthetic White and Unusual Grey.  They will not be painting their signage, which is white.
The Board disagreed with the use of the blue stripe all around the building; they suggested using different color blocks on the panels of the building to break up the massing of the building.
The applicant asked for a continuance to May 24.  In the meantime, they are permitted to make preparations for repainting.
Public Information Meeting
Heartland Dental


Representatives for Heartland Dental presented their plans for a multi-tenant building at 20330 Grande Oaks Shoppes Blvd., north of Corkscrew Road and east of Ben Hill Griffin Parkway.  (Presentation)
They are proposing a one-story, 5,520 square foot building to house Heartland Dental along with a retail tenant.
The Board recommended using additional detail on the corners of the building, window shade coverings, transitional paint color and landscape in the parking island.
Additional details are available in the minutes of this meeting.  Residents may also view the archived meeting by going to the Village website http://estero-fl.gov/council/watch-meetings-online/.
The next meeting will be at 5:30 p.m., Wednesday, May 24, 2017.