The Planning & Zoning Board will conduct public hearings for three different applications at 4 p.m., Tuesday, July 18, 2017.

MidiCi Neapolitan Pizza Company is looking for approval to allow alcoholic beverages and outdoor seating at their proposed restaurant located between Starbucks and Panera Bread at Coconut Point.
Dunkin Donuts is requesting approval for their monument sign to have a setback of 10 feet instead of 15 feet.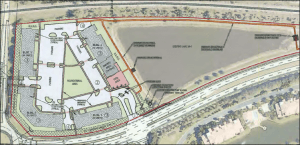 Tract 1A and Tract L1 (Edera at Coconut Point) The applicant is requesting to amend the existing Development of Regional Impact and zoning, along with approval of four deviations, to allow for 180 apartments on the northeast corner of Via Coconut Point and Williams Road.
*Please note, the meeting will be held at 4 p.m. in the Village Hall, 9401 Corkscrew Palms Circle.
Residents are invited to attend and offer comments, or they may watch the meeting online at: http://estero-fl.gov/council/watch-meetings-online/.
The next PZB meeting will focus on the Comprehensive Plan starting at 4 p.m., July 25.