MidiCi Pizza – Public Hearing

The Board approved the request by MidiCi Neapolitan Pizza Company to allow alcoholic beverages (beer and wine) and outdoor seating in a clearly defined area at their proposed restaurant located at 8076 Mediterranean Drive, between Starbucks and Panera Bread at Coconut Point.
MidiCi Pizza will serve various types of pizza, appetizers, Italian cheese dishes and salads.  The indoor restaurant will seat 73 customers, with room for 51 patrons outside the restaurant.  There will be no "live" outdoor entertainment, and the restaurant will operate from 11 a.m. to 12 midnight. (Presentation)
Dunkin Donuts – Public Hearing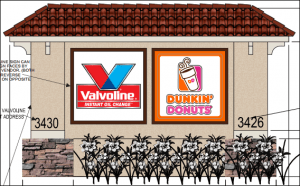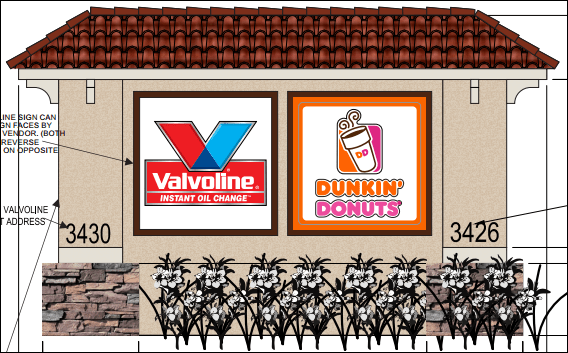 A representative for Dunkin Donuts/Valvoline was requesting approval for their monument sign to have a setback from the road of 10 feet instead of the required 15 foot setback.  They are concerned about visibility of the sign due to the lush landscaping along the roadway.
Following a discussion, the applicant asked for a continuation to a date certain of August 15 in order to provide the Board with photoshopped examples of what the sign would look like if it were placed at the required 15 foot setback vs their requested 10 foot setback.
Dunkin Donuts is located in the Grand Oaks Shoppes at Corkscrew Road and Ben Hill Griffin Parkway. (Presentation)
Coconut Point Tract 1A and Tract L1 (Edera at Coconut Point) – Public Hearing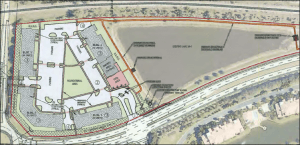 The Board had a tie vote (one Board member recused himself) as to whether or not to recommend that Council approve Tract 1A and L1 (Edera at Coconut Point) with conditions to amend the existing Development of Regional Impact and zoning, along with approval of four deviations.
Ned Dewhirst, representing Edera, pointed out that other communities have one ingress/egress (communities in The Brooks, American House, etc.), the applicant has reduced the number of units from 200 to 180, and they are adding enhanced landscaping in the median, roundabout and the southern end of their property (Tract L1).
Edera at Coconut Point will provide 180 rental apartments over parking in four, three-story buildings at a height of 45 feet on the northeast corner of Via Coconut Point and Williams Road.  Dewhirst explained that Edera would provide workforce housing for Hertz, Lee Health and others at an average rent of $1500.
Included in the properties' amenities are an indoor recreational center, a community pool, and gathering spaces around the lake at the south end of the property. In addition, they plan to offer a bike sharing program and an onsite trolley to Coconut Point and Lee Health.  (Presentation)
Additional details are available in the minutes of this meeting.  Residents may also view the archived meeting by going to the Village website http://estero-fl.gov/council/watch-meetings-online/.
The next Planning & Zoning Board meeting will be a discussion of the Comprehensive Plan at 5:30 p.m., Tuesday, July 25, 2017.