Public Information Meeting
NCH Healthcare System

Representatives for NCH Healthcare System presented their application for a Development Order on 3.5 acres located at 22951 and 22961 Lyden Drive, just south of Chipotle, on the west side of US 41 across from Coconut Point Mall.
NCH is proposing to build a two-story, 40,000 square foot, $30 million medical center.  The building will include a 24/7 Emergency Room, two outpatient surgical suites and support services for out-patient care.  The building would include a rotunda lobby to the second floor.  (Presentation)
Public Comment: 1 resident spoke in favor of the proposal and 9 residents spoke against the proposed medical center.
No decisions are made at Public Information Meetings as they are conducted to allow the Board and the public to hear and comment on developers' future plans.
The Village's Community Development Department will review the application for compliance with zoning resolutions.
Public Hearings
MedExpress Estero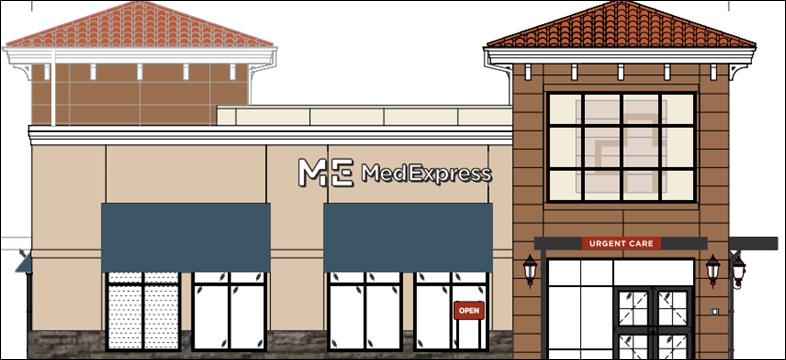 Representatives for MedExpress Estero were applying for approval of a Development Order at the northeast corner of US 41 and Estero Parkway, adjacent to Walmart.
They are proposing to build a 5,007 sq. ft. medical facility with associated site improvements and landscaping. (Presentation)
The Board suggested a number of changes were needed to the design of the building including removing the stone at the base, adding sills to the windows and tiling the canopies.
The applicant asked for a continuance to the May 10 Design Review Board meeting.
Estero Grande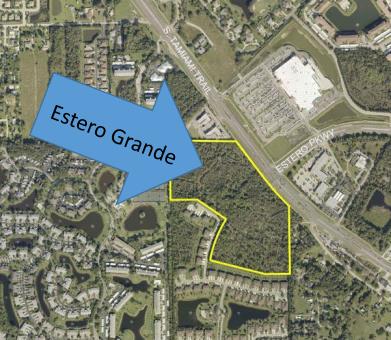 Representatives for Estero Grande presented changes made to their Pattern Book to address consistency in the designs throughout the commercial/retail space and 285 multifamily units.  (Pattern Book)
They also requested approval for an "infrastructure" Development Order for site improvements including roads, utilities and lot layout to support their commercial and residential community.
They have met with the neighboring communities to address their concerns and as a result will be providing an 8 foot wall between the Estero Grande property and Breckenridge, with enhanced landscaping facing Breckenridge.  They also met with Trailside residents and addressed their concerns regarding the flow of water from Estero Grande into their property.
The Board agreed they would recommend the Pattern Book for approval by the Village Council once additional pedestrian connectivity is provided.
The Board made several stipulations to the infrastructure Development Order, subject to the Pattern Book approval, including leaving a 20 – 30 foot strip of existing vegetation as a buffer along US 41during site improvements.
This property is a 29.6 acre parcel located west of the intersection of Estero Parkway and US 41, east of Breckenridge and north of Terra Vista.
Additional details are available in the minutes of this meeting.  Residents may also view the archived meeting by going to the Village website http://estero-fl.gov/council/watch-meetings-online/.
The next meeting will be at 5:30 p.m., Wednesday, May 10, 2017.