Public Hearing
The meeting opened with a public hearing for a new, 24/7 critical care Florida Veterinary Referral Center facility.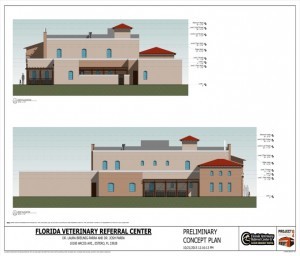 The veterinary group, currently located at 9220 Estero Park Commons Blvd., is proposing to build a two-story, 16,000 square foot animal clinic in the Plaza del Sol on the east side of Three Oaks Parkway just north of Corkscrew Road.
Board members pointed out that the building was lacking in Mediterranean details and needs either additional decorative architectural elements or landscaping in order to keep the building from looking too institutional on the north and western elevations, which are most visible from Three Oaks Parkway.  The group was granted a continuance to come back with modifications.
---
Public Information Meetings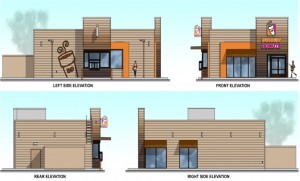 Representatives of Morris Engineering gave a presentation for a proposed Valvoline building and a Dunkin Donuts building on a one-acre property at the Grand Oak Shoppes on Corkscrew Road and Ben Hill Griffin.
The board described the Dunkin Donuts building as reflecting strictly a corporate image vs the community's and the shopping center's image.  In addition, the board stated the property needs connectivity with the shopping center.
---
Representatives of City Mattress gave a presentation for a proposed 12000-square foot building located on the south end of Coconut Point Mall across from Dillard's.
---
The Estero Medical Center is applying to eliminate the side setback maximum dimension of 5 feet on their property at 10201 Acros Avenue at Plaza del Sol.  This was a scrivener's (inadvertent) error in the documentation and was intended to be a 50-foot side setback.
---
Additional information is included in the minutes of this meeting.