Planning and Zoning
Community Development Director Mary Gibbs and Land Use Attorney Nancy Stroud gave an overview of the basics of Planning and Zoning.  Every new city and/or county has to develop a comprehensive plan, and Estero has three years from incorporation to establish its own plan and land development code.  The "Comp Plan" determines goals for community development and governs everything, serving as the constitution for a city. It also includes plans for transportation; future land use; housing; community facilities and services; parks, recreation and open space, and capital improvements.
In addition, Gibbs introduced members of her newly contracted staff from Calvin, Giodano and Associates.  They will be serving as the Estero Community Development Department.  Their offices are temporarily located in The Brooks' Executive Suites on Coconut Road until the new Village Hall becomes available in March 2016.
Florida League of Cities Municipal Pension Trust Fund
Representatives of the Florida League of Cities gave a presentation on their employee benefit plans.  They manage individually designed employee pension plans through a trust fund for over 200 small to mid-size cities and organizations in Florida, including the City of Sanibel and Estero Fire Rescue.
Estero Community Improvement Foundation Needs Study
Wayne Smith, president of the Estero Community Improvement Foundation (ECIF), and Robert Felke, Syntony Research & Consulting, LLC, presented the results of a recently completed community needs and assets study or what they're calling "a report of the people".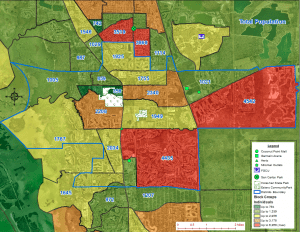 A set of interviews and focus group sessions were conducted and a survey was emailed to over 3,000 residents.  Key areas of concern were associated with transportation issues, including traffic, a lack of sidewalks and bike paths in many areas and a mostly non-existent public transit system, as well as the pace of development and concerns about its impact on the environment.
Other issues brought forward were a lack of affordable housing for the workforce or those wishing to downsize and signage denoting the village boundaries.
Overall, the majority of respondents believe Estero's quality of life is high and that the village's future is very positive.
Council Communications
District 7 Councilmember Jim Wilson said that when he served on the Palatine, Illinois Council, they had a "committee on committees" which coordinated the work performed by each council member.  He suggested this council should adapt a similar guide.
Village Manager Steve Sarkozy stated that a formal set of rules should be adapted and that he and Village Attorney Burt Saunders will work to develop a set of operating guidelines.
Additional details are included in the minutes of this workshop.