Coconut Point Art Festival
A special event permit was granted for the 5th annual Coconut Point Art Festival to be held from 10 a.m. – 5 p.m., Saturday and Sunday, January 2 and 3, 2016, at the Coconut Point mall parking lot.  This event attracts 100 regional vendors and between  2 – 3,000 people each year.
Volunteers of America Senior Care Facility
The Volunteers of America's request to rezone a 21-acre parcel on the east side of Sandy Lane and Corkscrew Road from commercial to residential for a 340-bed continuing care retirement community was approved to go forward to the Village Council for final approval.
Now called the Colonnade of Estero, the proposed community will range from independent and assisted living apartments to skilled nursing and memory care. The community would also include a medical office.  The developers anticipate there would be 160 employees at build-out.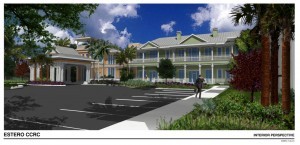 The buildings will feature "Old Florida" architecture and include an open campus with a civic center, which also would be available for use by community groups.
The project would be completed in two phases, starting at the western end of the property.
The Volunteers of America is working with Greystone Communities Inc., developers of The Terraces in Bonita Springs, to develop this facility.
The group has conducted three meetings with nearby residents of the Estates at Estero River to garner support for the facility.  Two residents of that community spoke at this meeting.  One resident spoke against the development and the other, representing the homeowner's association, spoke in favor of the development.
Autumn Leaves of Estero
Autumn Leaves of Estero is a memory care facility currently under construction at US 41 at Lyden Drive (across from Coconut Point Mall).

The developer asked for approval to change their originally approved monument sign.  The Department of Transportation recently placed a bus stop and railings in the original location of the signage which would have obstructed the sign's visibility.  The board approved this change with the determination that this deviation is site specific and unique to this property.
Estero WAS – DCI 2015-00016
The Board moved for a continuance on the request to rezone 1.36 acres from mixed use planned development to commercial planned development on the west side of US 41 south of Pelican Sound Drive.  This will be brought back to the Board at a later date.
Additional details are available in the minutes of this meeting.