Proposed CR951 Extension
The Council voted unanimously to request the Lee County Metropolitan Planning Organization (MPO) to remove the portion of the proposed County Road 951 extension from Corkscrew Road to Alico Road from the 2040 Long Range Transportation Plan/Needs List.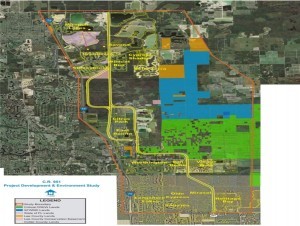 Thousands of Estero residents have opposed the extension of this road due to the negative impacts it would have on the environment as well as property values.
April Olson, Conservancy of Southwest Florida, stated the road would intersect the Density Reduction Groundwater Resource (DR/GR) area, dissecting wetlands and uplands, flows to the Estero River and Estero Bay, as well as panther habitat.
Mayor Batos, a member of the Lee County MPO, will present the resolution to the MPO on Friday, November 20, 2015.
Urban3 contracted to assist in village center planning
A contract will be awarded to Joe Minicozzi, Urban3, a consulting firm specializing in land value economics, to assist with the overall planning for the proposed village center.   He will work with Council, Bill Spikowski and local developers, all of whom have been addressing this planning area.   Following his initial work, a workshop will be held sometime in January at the Estero High School.
Wayne Smith, president of the Estero Community Improvement Foundation, volunteered that his organization will pay for half of the cost of the $5,175 contract.
A permanent floodplain management ordinance (Ordinance 2015-16) and a homestead exemption for low-income seniors meeting certain criteria (Ordinance 2015-17) were approved.
There was a first reading of Ordinance 2015-18 approving the second budget amendment for FY 2015-16.
Additional details are available in the minutes of this meeting.