Ordinance
Ordinance 2016-13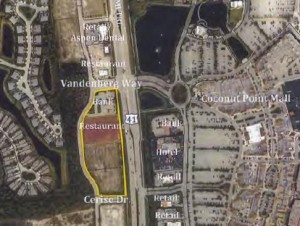 This was the first reading of this ordinance to approve an amendment to the Shoppes of Coconut Trace to add limited commercial uses, with conditions, to those previously approved on this property at 22942 Lyden Drive.
The second reading is scheduled for December 7. (Ordinance)
Added agenda item: Bonita Springs to discuss vacation of "Viewer's Road"
Councilmember Bill Ribble stated he learned late on October 28 that the Bonita Springs City Council will have a presentation on the history and issues associated with whether to vacate the "Viewer's Road" (at the most western end of Coconut Road) at their workshop at 4 p.m. today.  Walter McCarthy, Community Development Department, will attend the Bonita Council workshop.
Six members of the public spoke in opposition to the vacation of this road stating that the road should be accessible to the public to watch sunsets as well as to launch small boats and kayaks.
Action Items
Resolution 2016-33
This resolution was adopted establishing the Council meeting dates for 2017.  (Resolution)
Resolution 2016-34

This resolution was adopted establishing March 7, 2017, as the election of Council seats for Districts 1, 2 and 6 in cooperation with the Lee County Supervisor of Elections. (Resolution)
Takeover of roads/maintenance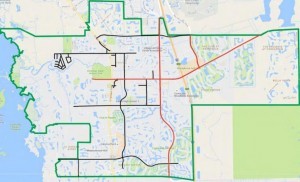 Village Manager Steve Sarkozy pointed out that the FGCU road study allowed Council to have a general estimate of what all of the road conditions are and the maintenance, repair and improvements which would be required.  He also stated that by taking over the roads, the Village would be able to upgrade some of the services, in particular grass mowing.
Assistant to the Village Manager Kyle Coleman gave a presentation on the cost comparisons associated with taking over the maintenance of the roads.  (Presentation)
Council voted to have staff prepare an agreement to take over the roads and a notice to terminate Lee County's road maintenance responsibilities within 65 days.
Southwest Florida Regional Planning Council
A representative for this organization presented Council with a video annual report.  This item was tabled for consideration at a later date in order to have a representative return with more complete information.
Salary Adjustment for Staff
Council approved a 4% increase for staff, including retroactive to October 1, 2016, for 4 staff members.
Health Care Coverage
Council approved a modification to the benefits policy that would add spousal or dependent child coverage, with the employee paying 25% of the cost.
Workshop
Estero Fine Arts Show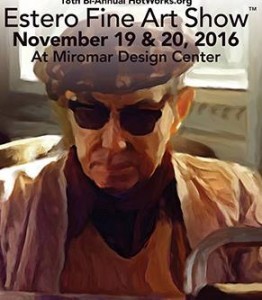 Patty Narozny, Director of Hot Works, stated the Estero art show is one of the top in the country.  Dates for the 18th and 19th biannual season are Saturday and Sunday, November 19-20 and January 7-8, 10 a.m. – 5 p.m. at the Miromar Design Center. Art awards will be presented at 3 p.m. on both Sundays.  Students and families are encouraged to participate.
US 41 Lighting Project Update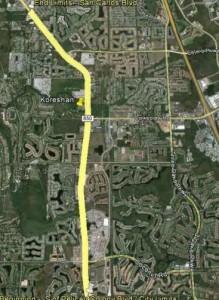 Jeff Mednick, Design Project Manager, gave an update of the street light construction project which extends from just south of Pelican Colony Blvd. at the city limits north to San Carlos Blvd.  The project includes 353 light poles, some with dual heads along sidewalks.
Construction is scheduled to start on November 28, 2016, and is expected to take 340 days, ending in early 2018. (Presentation)
Council Rules of Procedure
Council reviewed a number of changes to the rules of procedure.  They will continue to review some of their recommended changes individually with Village Manager Steve Sarkozy before finalizing.
Estero Bay Buddies Dinner & Silent Auction
Estero Bay Buddies will celebrate the 50th Anniversary of the Estero Bay Aquatic Preserve at 5 – 10 p.m., Friday, December 2, 2016 at the Hyatt Regency Coconut Point Resort and Spa.  Renowned photographer Clyde Butcher will be in attendance.
The proceeds from the silent auction will benefit science education programs provided to Lee County students, science-based internship programs and community outreach activities.  To get your tickets, go to: https://www.eventbrite.com/e/dinner-and-silent-auction-estero-bay-aquatic-preserve-50th-anniversary-tickets-25727397338?ref=ebtnebtckt.
Additional details are available in the minutes of this meeting.  Residents may also view the archived meeting by going to the Village website http://estero-fl.gov/council/watch-meetings-online/.
The next meeting will be at 9:30 a.m., Wednesday, November 16, 2016.