Public Information Meetings
Autumn Leaves monument sign
The applicant is seeking to modify the existing vinyl over metal monument sign with an illuminated sign.  The sign will look the same except that the logo will be lighted internally with LED lighting.
Estero Grande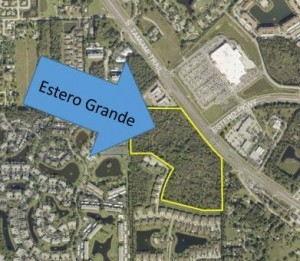 Estero Grande is applying for infrastructure development to provide access and utilities to support their proposed commercial/retail space and 285 multifamily units.  The proposed building height will be 45 ft.
This property is a 29.6 acre parcel located west of the intersection of Estero Parkway and US 41, east of Breckenridge and north of Terra Vista.
The applicant is currently establishing the out parcels, the backbone structure and entry road and turn lanes. There will be a single access to this property at the light at Estero Parkway.
The applicant also presented their proposed "beauty book". (Presentation)
Ten nearby residents spoke of their concerns during the Public Comment session.
No decisions are made at public information meetings.
Additional details are available in the minutes of this meeting.  Residents may also view the archived meeting by going to the Village website http://estero-fl.gov/council/watch-meetings-online/.
The next Design Review Board meeting will be at 5:30 p.m., Wednesday, December 14, 2016.