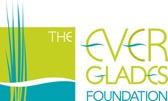 The "NoworNeverglades" bus tour will stop at the Village Hall at 4 p.m., Tuesday, November 1.  This is an opportunity for Estero residents to learn more about this effort and, if so inclined, to sign their declaration.
The Everglades Foundation is conducting a 12-day "NoworNeverglades" bus tour throughout central and south Florida to help persuade the next President, Congress and Florida lawmakers to support the construction of a water storage reservoir in the Everglades Agriculture Area (EAA).  The bus will be stopping in Bonita Springs earlier this same day.
The tour will also seek to build public support for this effort.  Signers of the declaration affirm their support for added water storage in the EAA to help alleviate damaging discharges into coastal estuaries, increase the flow of clean fresh water to the Everglades and Florida Bay, and protect the drinking water supply for 6 million Floridians.
Organizers and volunteers will be present at each stop asking people to join the more than 31,000 supporters who have already signed up.  The full declaration is available at EvergladesFoundation.org/NoworNeverglades-Declaration.