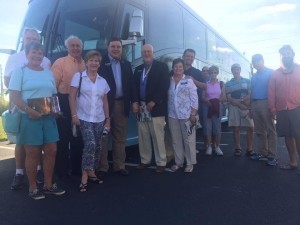 Mayor Nick Batos, Councilmembers Katy Errington, Bill Ribble and Jim Wilson were joined by Bonita Springs' Mayor Peter Simmons and others visiting the #NoworNeverglades bus to learn more about efforts to restore the Everglades, protect Florida's water and save Florida tourism.
The #NoworNeverglades bus tour stopped at the Village Hall on November 1 as an opportunity for Estero residents to learn more about this effort and to sign their declaration.  They are proposing to use funds from the public conservation program Amendment 1 to purchase land in the Everglades Agricultural Area for water storage and conveyance.
The Everglades Foundation is conducting a 12-day #NoworNeverglades bus tour throughout central and south Florida to help persuade the next President, Congress and Florida lawmakers to support the construction of a water storage reservoir in the Everglades Agriculture Area.
The tour is seeking to build public support for this effort.  Signers of the declaration affirm their support for added water storage in the EAA to help alleviate damaging discharges into coastal estuaries, increase the flow of clean fresh water to the Everglades and Florida Bay, and protect the drinking water supply for 6 million Floridians.
Those wishing to sign the declaration may do so here: http://www.evergladesfoundation.org/NoworNeverglades