Sanibel Mayor Keven Ruane gave a short presentation to the Council, asking them to join the effort with other Lee County local governments to hire Dan DeLisi for water resource consulting in Tallahassee during the upcoming legislative session.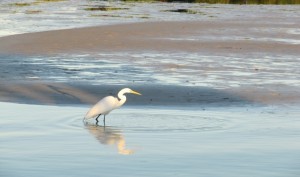 DeLisi, a former member of the South Florida Water Management District, has extensive knowledge of local and regional projects needed to address water resource challenges in the Caloosahatchee River and Estuary.
Ruane stated that water quality plays a major role in all of Southwest Florida's economy, especially tourism and real estate, and that it will take local, regional and statewide support to maintain that water quality.
Water policy issues that are anticipated this session include the C-43 West Basin Reservoir project, Lake Okeechobee operations and promotion of local water quality projects within the Caloosahatchee watershed.
Council voted unanimously to join the other 5 local municipalities supporting this lobbying effort at $2,500.
Community Development Services
Community Development Services are being transitioned from Lee County to Calvin, Giordano & Associates Inc.  Planning and zoning services were initiated on October 7, 2015; all other functions will start January 1, 2016.  Giordano staff report to the Village's Community Development Director Mary Gibbs.  By transferring these services from Lee County, the revenues from the Community Development activities will be retained by the Village and it is projected to reduce costs by $258,300.

New Village Hall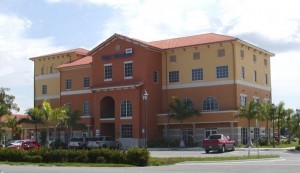 A five-year lease was approved with Hamleg Corkscrew, LLC, for the new Village Hall offices at 9401 Corkscrew Palms Circle.  This lease can be renewed three more five-year terms, i.e., it could serve as the Village Hall for 20 years.
The contract includes an option to buy the building after the first two years at $4 million.
The Village will contribute $140,000 to make the necessary improvements to the building; the landlord will pay $150,000 toward the improvements.  The facility will include offices, two conference rooms, council chambers with seating for about 100 residents, and 80 dedicated parking spaces.
Mayor Batos comments
Mayor Nick Batos, who serves on the Lee County Metropolitan Planning Organization (MPO), stated that after a recent meeting where the MPO reviewed all of the regional transportation improvement projects listed in the 2040 plan, it was determined there will not be adequate funding for many of these transportation projects.  The MPO projects that the costs will be over $4 billion, with available funding to be about $2 billion.   Batos pointed out that the funding shortfall will exist whether the County would reinstate the 100 percent impact fees for new building projects or through other funding sources.   He stated that each municipality, as well as the County, will have some hard decisions to make regarding future transportation needs.
Interim Village Manager Peter Lombardi
Peter Lombardi noted that this meeting was his last official Council meeting.  He congratulated the Council for the many achievements they've accomplished to date and thanked them for the opportunity to be part of establishing the city.  Lombardi did not apply for the permanent Village Manager position.  He stated he's going to go back into retirement with his wife, Nancy.  The Council gave him a standing ovation.
Additional information is included in the minutes of this meeting.