Public Information Meeting
The Reef Phase II

Representatives for The Reef Phase II presented the Pattern Brook for their proposed 60-unit student housing project on the northeast corner of the intersection of Estero Parkway and Three Oaks Parkway, adjacent to The Reef Phase I.
The buildings will be three stories, offer 2 to 5 bedroom apartments and be painted the same color tones as those used in The Reef Phase I. The site will also include up to 278 parking spaces.
The applicant plans an enhanced, undulating buffer along Three Oaks Parkway. The buffer will include 12 ft. and 16 ft. tall trees and a double row of hedges, using a number of native plantings. This buffer will help screen the large parking lot from those passing along Three Oaks Parkway.
The applicant also will be asking for a deviation allowing a monument sign on the southwest corner of their property on Three Oaks Parkway and Estero Parkway. (Pattern Book)
Public Hearing
Perkins Restaurant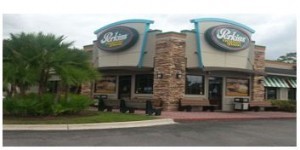 A representative for Perkins Restaurant presented plans for renovations to their building at 20320 Grand Oaks Shoppes at the northeast corner of Corkscrew Road and Ben Hill Griffin Parkway.
They are proposing minor exterior renovations to the building consisting of a metal awning over the entrance, new lights, a wall sign relocation and trim paint.
The application for a limited development order was approved with the stipulation that the directional sign must be a monument sign rather than a pole sign and that the trees which had been incorrectly removed from the buffer must be replaced with similar, 16 ft. tall, 100 gallon trees. (Presentation)
Workshop
Estero Town Center – Aldi and MedExpress

Representatives for the Aldi grocery store were seeking the Board's comments on the building architecture and landscaping associated with their proposed project to be built in the "Estero Town Center" located on a 4 acre site just north of Walmart on the east side of US 41.
They also will be asking for a deviation to reduce the separation of access points along US 41 from 660 ft. to 440 ft. to allow them to have their own entrance to the site rather than using the Walmart access.
The representative for MedExpress, also planned for this site, was unable to attend this meeting.
Included in the Board's comments was the fact that the building's architecture as proposed did not incorporate the essence of Estero, the east buffer would need improvement and there should be a cohesive element between the Aldi and MedExpress buildings.
A number of residents from nearby The Vines at Estero Country Club, Breckenridge and Belle Lago spoke of their concerns about traffic and safety as well as the proposed architecture. (Presentation)
Additional details are available in the minutes of this meeting. Residents may also view the archived meeting by going to the Village website http://estero-fl.gov/council/watch-meetings-online/.
The next meeting will be at 5:30 p.m., Wednesday, November 9, 2016.