Protection needed for Estero River
April Olson, Growth Management Specialist with the Conservancy of Southwest Florida, gave an overview of the Estero River.  She talked about its history when the river was used as the major mode of transportation.  At that time, the river was flanked by orange groves on both sides.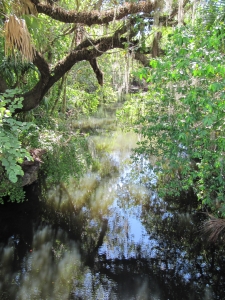 Today, the river provides flood control and habitat for native wildlife.
The headwaters start at Halfway Pond, in the Density Reduction Groundwater Resource (DRGR) area, northeast of Estero.  There is a north branch and south branch of the river which converges near the Village of Country Creek community and then flows to Estero Bay.
Olson addressed the economic impact of protecting the river's water quality, stating that wildlife viewing has been determined to be the second most preferred activity by tourists coming to Southwest Florida, led only by the enjoyment of clean beaches.
There are several places where residents can access the river, either to walk alongside it or to paddle on the river – the Koreshan State Historic Site, the Happahatchee Center and the Estero River Outfitters.
The river has problems associated with its water quality.  Olson stated that what happens in the DRGR affects tributaries downstream, including the Estero River and Estero Bay.  It was recommended that an Estero River Task Force be formed to address protecting this important resource so that it could become the "Central Park" of Estero.
Extreme oil extraction
Caitlin Weber, Policy Analyst with the Conservancy, gave an updated presentation on extreme oil extraction and fracking; she had previously presented an overview to the Council on this subject on September 17.
Estero sits on the Lower Sunniland.  The oil industry describes the Sunniland as an overlooked oil resource; it is also the Sunniland that the Dan A. Hughes Company recently acidized and fracked in Collier County.
With acid hydraulic fracturing, fluids are injected into the well under high pressure to fracture oil bearing rock to enhance oil production.  Acid stimulation dissolves rock without fracturing but involves the same chemicals used in fracking.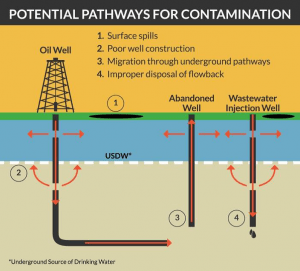 Risks associated with these methods of extraction include spills; leaking of chemicals, some of which are toxic; air and light pollution; transport and storage of the chemicals, and disposal of the thousands of gallons of waste water which can never be used again.
There are two local bills going before the Florida State Legislation this year which would preempt all local home rule authority of any oil or gas project and delete municipal authority to review drilling.
The Conservancy recommended that Council consider establishing a well stimulation ordinance banning fracking within the Village limits before these two bills can be enacted.
A number of environmental activists and residents also spoke in favor of the Council banning fracking in the community.
Village Attorney Burt Saunders was directed to draft such an ordinance along with a resolution opposing state preemption of authority over oil exploration.
Estero Community Plan
Vice-Mayor Howard Levitan spoke about how the most recent Estero Community Plan was developed in 2014.  It calls for the remaining developments to include walkable/bikable roads; interconnected neighborhoods; gathering places; connectivity to the Community Park, Estero River and healthcare; a city hall, and possible commuter rail access.
Levitan stated the Village is trying to build a sense of place and a sense of community through this planning process.
Planning consultants Seth Harry and Bill Spikowski gave an overview of their work to date.
Levitan and Community Development Director Mary Gibbs met recently with local developers to negotiate and come to a consensus in order to move forward.
The community is developing incentives and will be collaborating further with land owners through a tiered incentive system in order to create the Village Center areas.
Levitan stated there is still a lot of work left to do but that it has to be done in a collaborative effort and also needs to be accelerated.
Further details are available in the minutes of this workshop.