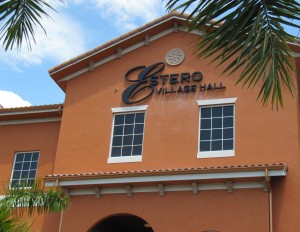 The Village Council will conduct the first round of interviews to fill the District 3 Councilmember vacancy at their meeting on Wednesday, June 7, 2017.
Council will address several resolutions including one supporting FDOT naming US 41 between Corkscrew Road and Coconut Road the Coach Jeff Sommer Memorial Highway.  Coach Sommer served as the Estero High School athletic director and cross country coach, and was known for nurturing teamwork and sportsmanship in all of his students.
In addition, they will review an agreement with J.R. Evans to continue consulting services related to the National Flood Insurance Program.
The full agenda is available here: https://estero-fl.gov/agendas/
Village Council meetings are held at 9:30 a.m. in the Council Chambers, Village Hall, 9401 Corkscrew Palms Circle, near the entrance to the Estero Community Park.
Residents are invited to attend and comment on agenda items or they may watch the meeting online at: http://estero-fl.gov/council/watch-meetings-online/