Koreshan State Park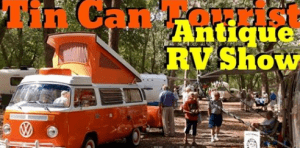 View a number of antique RVs at the "Tin Can Tourist Antique RV Show" at the Park from 10 a.m. – 4 p.m. on Saturday, November 3.
Also, visit the Farmers' Market – every Sunday 8 a.m. – 1 p.m.  The Park is located at 3800 Corkscrew Road.
South County Regional Library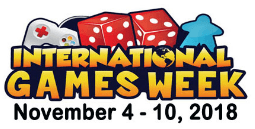 The Lee County Library System will join more than a thousand libraries around the world during International Games Week, November 4-10, as they transform their libraries with games.
International Games Week in Estero – November 5-10 – Play all week, available during normal library operating hours: Monday-Wednesday: 9 a.m.-8 p.m.; Thursday: 9 a.m.-6 p.m.; Friday, Saturday: 9 a.m.-5 p.m.  Ask the staff at the Adult or Youth Services desk for a list of games to borrow and play in the library while you are visiting the library at 21100 Three Oaks Parkway.
Miromar Outlets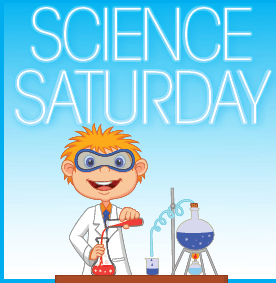 Join Mr. Glen and his science and engineering team for interactive science projects which are fun for the whole family.
Science, Technology, Engineering, Mathematics
Meet Mr. Glen and his team at the WINK Playland, 11 a.m. – 1 p.m., Saturday, November 10.
Coconut Point Mall's Tree Lighting Event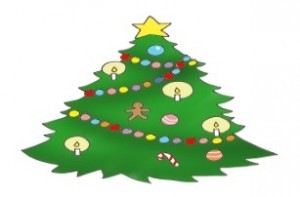 The Mall is providing a holiday spectacular tree lighting to kick off the season.  There will be entertainment, special offers, and much more on Friday November 16 from 6 p.m. – 8 p.m.  The tree lighting will take place in the courtyard near Soft Surroundings.
Village of Estero's "Salute to Veterans" November 17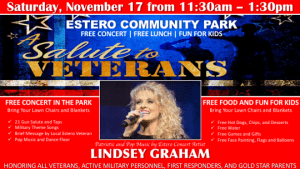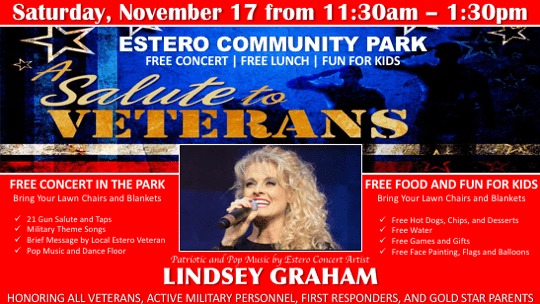 The Village of Estero will salute all Estero veterans, active military, first responders and gold star parents from 11:30 a.m. – 1:30 p.m., Saturday, November 17 with a free, family-oriented party at the Estero Community Park.
There will be children's activities, free hot dogs, a 21-gun salute, patriotic and pop music performed by Estero concert artist Lindsey Graham as well as recognition of those who are currently serving, or have previously served, our country.
This party is geared to bringing the entire community together in a fun atmosphere.  Mark your calendars now to plan on bringing your family, friends and neighbors, along with your lawn chairs or blankets.
Plan to come to this special community event at the Estero Community Park located at 9200 Corkscrew Palms Blvd.
Lee Health-Coconut Point Open House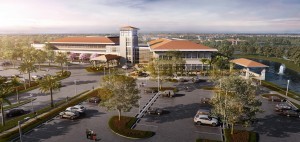 Emergency department tours, free yoga classes and cooking demonstrations are among the various events planned for the Lee Health-Coconut Point Open House from 9 a.m. – 1 p.m. on Saturday, November 17.  The event is free, no RSVP needed.
In addition, there will be a 5K run, 1 K fun walk from 7:30 – 8:30 a.m. that morning.  You may register online for the race at http://tinyurl.com/InspireHealth5k.   (Flyer)
Lee Health-Coconut Point is located at 23450 Via Coconut Point.
Florida Gulf Coast University's 18th Annual Pottery Sale & 12th Annual Empty Bowls Soup Lunch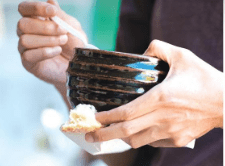 The Pottery Sale starts at 10 a.m., Friday, November 30, in the Arts Complex Courtyard. Meet and greet the artists while sipping on free coffee.
Also starting at 11:30 a.m. that same day, enjoy the annual soup lunch until the soup and bowls run out.  The suggested donation is $15; all proceeds support the Food Pantry at Interfaith Charities of South Lee.
See their brochure for other events here: https://webdev.fgcu.edu/cas/bsma/files/bsma-2018-2019-brochure.pdf. 
Healthy Life Center – Coconut Point

The Healthy Life Center at Coconut Point has a variety of events planned for November including ballroom dancing, stress management for the holidays, diabetes and your vision with screening.
Check out their calendar here.
November Council, Planning & Zoning Board and Design Review Board meetings November 7, 13, 14, 28 https://estero-fl.gov/
SAVE THE DATE! "An Evening under the Shadow Wood"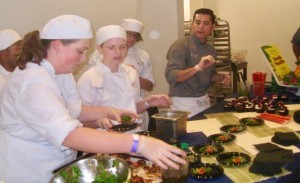 The third annual fundraiser for the Estero High School Culinary Program will be held on Monday, December 17, at 6 p.m., at the Shadow Wood Country Club.
This unique dining experience will generate funds to send the high school competition team to Orlando to compete in the Florida ProStart state culinary competition, provide product for students to work with in class and purchase the necessary equipment needed to upgrade their kitchen in order to become a premier program.
Tickets are $75 and are available here https://squareup.com/store/estero-high-culinary.