Public Information Meeting – Pelican Sound Golf & River Club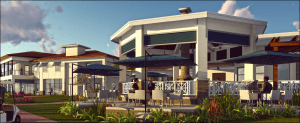 Representatives for the Pelican Sound Golf & River Club gave a presentation regarding the improvements they are proposing to the clubhouse in order to expand their food preparation, dining, bar and outdoor seating areas; relocating the pro shop and cart barn to new buildings, and removing existing tennis courts in order to increase the number parking lot spaces. (Presentation)
The community is located at 4561 Pelican Sound Boulevard, west of US 41 and north of Williams Road.
No decisions are made during Public Information Meetings.
Public Hearing – Heartland Dental

A representative for Heartland Dental requested a deviation to reduce the 125 foot intersection connection separation requirement to 110 feet for two vehicle access points to their parking lot along Grand Oak Shoppes Boulevard, which is a private road.
The applicant's development order is currently under review for a one-story, 5,890 square foot building housing their dental clinic along with a retail tenant in the Grande Oaks Shoppes north of Corkscrew Road and east of Ben Hill Griffin Parkway.  (Presentation)
Since this site consists of only 1.41+/- acres and only one vehicular access is required, the Board approved the resolution as presented by staff with the conditions contained within.
Public Hearing – ABC Fine Wine & Spirits

A representative for ABC Fine Wine & Spirits was asking for approval of their development order which is required before any site work can begin.
The applicant is planning a new, one-story, 12,360 sq. ft. building at the Paradise Shoppes of Estero, where they are currently operating a store. They have added a tower on the north side of the building and embellished the north wall with lattice and vines as suggested by the Board at their previous meeting.
The Paradise Shoppes of Estero is located at 21700 S. Tamiami Trail, west of US 41 and south of Pelican Landing Drive.  (Presentation)
Following a discussion of the architecture, proposed colors and signage, the applicant asked for a continuation to a workshop in the near future. The Board approved this request.
Workshop – Naples Community Hospital

Representatives for Naples Community Hospital participated in a workshop on the design elements of their proposed two-story, 40,000 square foot outpatient medical facility.
Topics of the workshop included placement of the emergency generator enclosure, the building's service entrance, architectural design, color of the building and what the next steps would include. (Presentation)
Public Comment:  Three residents spoke in opposition to the NCH application.
No decisions are made during workshops.
Additional details are available in the minutes of this meeting.  Residents may also view the archived meeting by going to the Village website http://estero-fl.gov/council/watch-meetings-online/.
The next meeting will be at 5:30 p.m., Wednesday, September 13, 2017.