Public Hearings
Estero Veterinary Clinic

The applicant requested a partial vacation of a drainage easement internal to the site on 10100 Arcos Avenue in the Plaza Del Sol.  This property is located on east side of Three Oaks Parkway.
The Board made a recommendation for approval by the Village Council.
Johnston Variance
The applicant requested a variance on the depth and width of their lot in order to build a single family home.  This property is located at 9651 Road Runner Court, north of Williams Road and west of River Ranch Road.
The Board approved this application.
Estero Crossing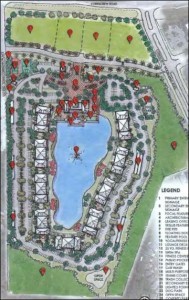 Representatives of Estero Crossing LLC returned to address the Board with a number of changes made to their original request which was presented before the Planning & Zoning Board on February 21, 2017.
They requested a Comprehensive Plan amendment and a rezoning from commercial to mixed use planned development with deviations. This site is currently zoned for commercial uses only.
In the residential section, they are proposing 350 multifamily units in 9 buildings at a height of 50 feet with elevators.  The 60,000 square feet of commercial space could possibly include any of the following: restaurants, hotel and a mini-warehouse.
They will provide a reverse frontage road between the commercial property and residential property, along with a traffic light adjacent to the Lowes property to allow egress onto Corkscrew Road. The reverse frontage road and traffic light are to be installed before any buildings are constructed.
This property is 43 acres located south of Corkscrew Road and approximately 1,000 feet west of the intersection of Corkscrew Road and I-75.
Nineteen residents, mostly from the neighboring Corkscrew Woodlands and The Island Club, spoke of their concerns regarding traffic and safety.
The Board voted unanimously to recommend the Village Council approve this project with the text amendment as written by Staff along with the schedule of uses, which excludes allowing a gas station and limiting the hours of operation of the commercial units from 6 a.m. to 12 midnight, among a number of other deviations.
The Board was specific in stating that one of the conditions should be that the results of the Village traffic study demonstrates that the traffic light and frontage road would improve traffic flow and safety for the adjacent residents.  (Presentation) (Staff Report)
The Comprehensive Plan workshop was postponed due to the fact there would not be a quorum available that evening.
Additional details are available in the minutes of this meeting.  Residents may also view the archived meeting by going to the Village website http://estero-fl.gov/council/watch-meetings-online/.
The next meeting is scheduled for Thursday, April 6 at 5:30 p.m.