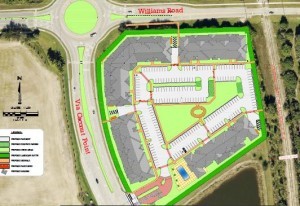 The Planning & Zoning Board will conduct a public hearing on a proposed Coconut Point Holdings development on the southeast corner of Williams Road and Via Coconut.  The developer is seeking approval for 200 multifamily housing units in four buildings on the 6.62 acre site.
The Board also will be addressing requests by Coconut Point Honda and Estero United Methodist Church, and reviewing the proposed ordinance regarding a temporary moratorium on cannabis dispensaries.
Please note the time is 9 a.m., Tuesday, November 15.
Meetings are held in the Council Chambers, Village Hall, 9401 Corkscrew Palms Circle, near the entrance to the Estero Community Park.
The full agenda is available here: https://estero-fl.gov/agendas/
Residents are invited to attend and comment on agenda items or they may watch the meeting online at: http://estero-fl.gov/council/watch-meetings-online/.