A silt fence has been installed at the Lee Health at Coconut Point site, located just south of Coconut Point Mall, adjacent to the Bonita Community Health Center between US 41 and Via Coconut Point.
Now that the erosion control devices are fully in place, the Village will conduct an inspection and issue a Vegetation Removal Permit, authorizing the start of construction.
The Village recently approved the truck route taking fill to prepare the site. The trucks will leave an Alico Road mine, travel south on I-75 to Corkscrew Road.  They will then travel Corkscrew Road west to US 41 south to Coconut Road and then to Via Coconut Point to the site entrance at Pelican Landing Boulevard.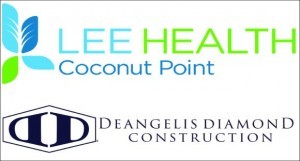 Returning trucks will pass through a truck/tire wash and then go west on Pelican Colony Boulevard to US 41, avoiding Via Coconut Point and Coconut Road,  and return to the mine over the same route as they came.
The trucks will have a decal affixed on both sides for identification.
There is a truck route enforcement policy in place.   The first offense against this approved truck route will be a warning to the operator, trucking company and sitework contractor. The second offense will be a 3-day suspension of the operator from the project and a third offense will be termination of the operator from the project.
There is a "hotline" telephone number for all questions and/or reporting of observed violations of the approved truck route.  That phone number is 239-265-9779 and is set up to receive voicemails from the general public.  Once a voicemail is received, an email will be sent to four members of the construction project management team for review and response.
In addition there is a website which will include a link for the general public to send any issues or concerns they have regarding construction.  The website is www.leehealthcoconutpoint.com.
These are the first steps toward the construction of this health and wellness destination for residents of Southwest Florida.
Lee Health is proposing to start construction of their 146,545 sq. ft. medical facility and 12,872 sq. ft. energy pavilion in June 2017, with projected opening of the facility in the fall of 2018.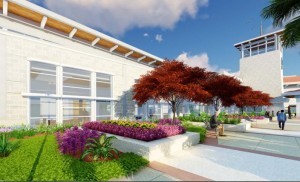 The facility will be located on approximately 31 acres, with the front entrance on Via Coconut Point and back entrance off of Pelican Colony Blvd., which will be used by ambulances and service vehicles.
Plans call for this facility to provide 24 hour emergency service 365 days a year in addition to offering a broad range of medical services, rehab and wellness programs.
Future plans may include a four-story building and helicopter pad if the state issues a certificate of need.
The enhanced landscaping plans call for over 50 species of plants, and there will be small rustic gardens, gathering places and multimodal pathways.   The parking area adjacent to the clinic entrance will be available for art fairs and/or farmers markets on weekends.