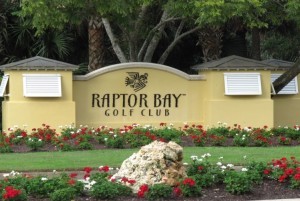 There will be a public information meeting at 5:30 p.m., Monday, June 27, at the Living Waters Church, 22100 S. Tamiami Trail, to provide a general overview of WCI Communities' proposed development of four 22-story high rise towers in Raptor Bay Golf Club.
This proposed development is located north of the former Weeks Fish Camp at the western end of Coconut Road in Bonita Springs.
This meeting is a requirement of the Lee County land development code provision stating that the agent applying for county approval must conduct one public informational session in accord with section 33-54(b) within the Estero Planning Community prior to obtaining a finding of sufficiency.
The meeting will provide general information regarding the pending zoning application which seeks to amend the Kersey Smoot RPD and the Pelican Landing RPD/CPD and Development of Regional Impact (DRI) amendments. The amendment will take 20 +/- acres out of the Kersey Smoot RPD and place the property in the Pelican Landing RPD/CPD.
If you are unable to attend this meeting and have questions or comments, you may direct them to Sharon Umpenhour, Q. Grady Minor and Associates, PA, sumpenhour@gradyminor.com.