About 350 residents turned out to learn more about the proposed Village Center at the workshop held at the Living Waters Church on March 8.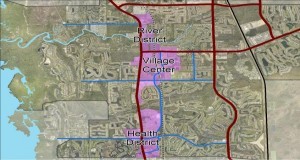 Village Manager Steve Sarkozy started the presentation by commending Estero for the high caliber planning which preceded incorporation.  He pointed out that continued careful planning with quality developers is necessary to create a healthy, vibrant community.
Land-use consultant Joseph Minicozzi discussed how communities must use economic analyses when making decisions about how their community grows and balance how to quantify the values of the community with the property owners' plans.
Minicozzi stated that millennials as well as many seniors are no longer interested in gated communities with golf courses but are willing to downsize their living space to be in an urban center.
A number of residents commented on the proposed Village Center, most emphasizing the importance of access to the Estero River, gathering places, and the ability to walk and bike from place to place.
Sarkozy thanked the Estero Community Improvement Foundation for funding this event.
(Entire presentation)
This is a large pdf file and might take a while to load
(Presentation specific to Estero)