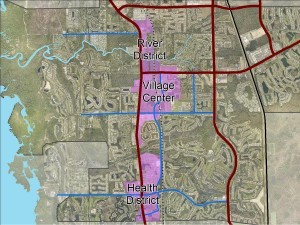 A Village Center Public Workshop will be held at 5:30 p.m., Tuesday, March 8, 2016, at the Living Waters Church, 22100 S. Tamiami Trail.
The Village's planning and design consultants Seth Harry, Seth Harry & Associates, Bill Spikowski, Spikowski Planning Associates, and Joe Minicozzi, Urban3, will provide an update for Estero residents on the development of the proposed Village Center east of US41 where mixed use developments are envisioned that would provide opportunities for residents to walk, bike or drive to a variety of activities.
Urban3 is a consulting firm specializing in land value economics.  Minicozzi has been working with Harry, Spikowski and local developers to plan this important area.
The Living Waters Church is located on the west side of US41, just south of Williams Road and opposite of the Hertz headquarters.