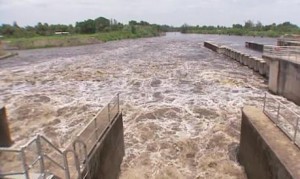 Senator Marco Rubio met with local officials on July 18 to discuss water quality issues associated with the flows from Lake Okeechobee to the Caloosahatchee and its estuary.
Mayor Nick Batos joined other concerned state representatives; Hendry and Lee county commissioners; mayors of Bonita Springs, Cape Coral, Ft. Myers, Ft. Myers Beach, Sanibel; members of various chambers of commerce; tourism officials, and environmentalists to hear from the Senator.
Those in attendance voiced their concerns about the effect the lake discharges, resulting algae blooms and discolored waters are having on local businesses and the economy.
Mayor Batos expressed his concerns about the effect the flows are having on residents' quality of life.  He stated that it could affect people's decisions about whether to move to this area or that it may encourage current residents to move out of south Florida, all of which would have a very negative impact on real estate values.
At the meeting, Rubio focused his discussions on the Water Resources Development Act of 2016, which would authorize the Central Everglades Planning Project (CEPP).  The CEPP will identify and plan projects to allow more water to be directed south to the central Everglades, Everglades National Park and Florida Bay.  While this project has been proposed for many years, Sen. Rubio believes there is a real chance of congress passing it in September.
To see photos and read the News-Press article regarding Sen. Rubio's visit, go to their website http://www.news-press.com/story/news/2016/07/18/marco-rubio-southwest-florida-water-woes-algae-okeechobee/87254310/.
All photos here: http://www.news-press.com/picture-gallery/news/local/2016/07/18/marco-rubio-meets-with-swfl-officials-on-water-quality/87258200/